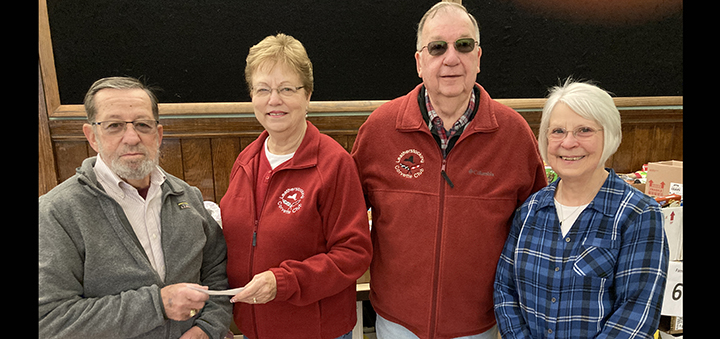 Sharon and Dick Fleming of Leatherstocking Corvette Club presenting a $300 check to Steve Runion, Board President of Our Daily Bread food pantry, and Barb Tompkins, co-coordinator of Our Daily Bread at the Episcopal Church in Norwich. (Submitted photo)
CHENANGO COUNTY — The Leatherstocking Corvette Club is showing their support of the Chenango County community this holiday season with donations to county food pantries.
The club makes an annual donation to the Chenango County Toys for Tots chapter, and in recent years began donating to food pantries in their membership areas as well.
"Our membership takes in quite a big area. We have members in Binghamton, Walton, Oneonta, Cooperstown, Earlville, Hamilton area, Sherburne," said Leatherstocking Corvette Club Secretary Sharon Fleming. "So we try to, each year, donate to a different food pantry wherever our membership is. So that all members feel that they're being recognized."
This year, $300 donations were made to the Our Daily Bread food pantry at the Emmanuel Episcopal Church in Norwich, and an Earlville food pantry.