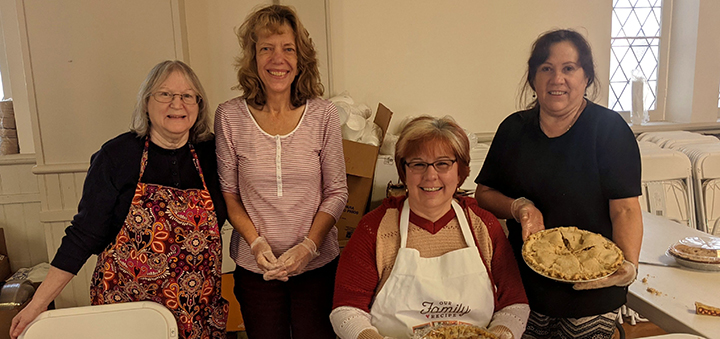 Jeannie Howard, Joann Lawton, Robin Fidurski, and Pat Dempsey; some of the volunteers at St. Paul's Church, who helped put together the Thanksgiving feast that served 225 people. (Photo by KT Root)
OXFORD - The Church Women United (CWU) of Oxford have been sponsoring the annual Free Thanksgiving Dinner (formerly held at St. Joseph's Church) for 38 years. The dinner was prepared and distributed as a take out only at St. Paul's Episcopal Church Parish House.
Many volunteers, as always, lent a hand to make the dinner a great success; and those people deserve thanks for this labor of love.
The CWU are very thankful for all 52 of the wonderful volunteers who filled in whereever they were needed, the businesses and individuals who provided food, and to those who enjoyed the traditional Thanksgiving Day dinner. The homemade dinner, with all the trimmings, was served to 225 diners!
A special thank you to St Paul's Episcopal Church for hosting the event and the Oxford Academy school children for beautifully decorating the placemats.
The Church Women United (CWU) of Oxford are representatives from four Oxford churches: St. Joseph's, St. Paul's, Foundation, and the United Church of Oxford.
For further CWU information, contact Sue Hubbard at 607-316-3465 or visit the CWU web page on the Common Cents Thrift Shop website provided by Woollybear Web - CommonCents.Chenango.org.