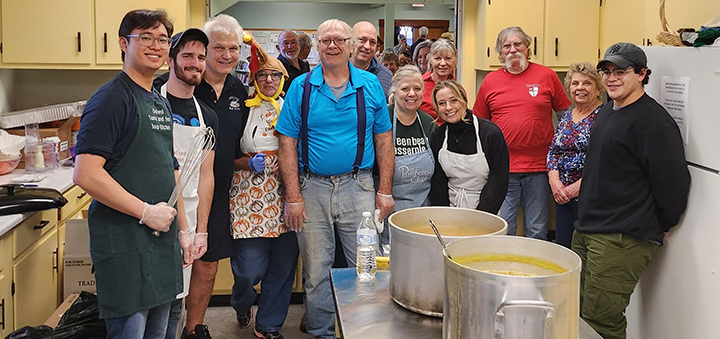 Volunteers with the Emmanuel Episcopal Church prepared and served 735 free Thanksgiving dinners on Thanksgiving Day, Thursday, November 24. The church has been providing the free dinners for around 16 years, and this year marks their highest number of meals served to date. (Submitted photo)
NORWICH — A group of volunteers at the Emmanuel Episcopal Church, located at 37 West Main Street in Norwich, spent Thanksgiving Day providing free meals to area residents. They finished the day with 735 dinners served, breaking last year's record of 675 meals.
The free dinners began around 16 years ago, started by Taste and See Soup Kitchen Founder Charlie McMullen, and carried on today by co-organizers John Klockowski and Gary Brookins and a team of dedicated volunteers.
Help was also provided by the Norwich American Legion, who stored the approximately 25 turkeys, and Ray's Kitchen along with Tim Thompson who assisted with cooking facilities.