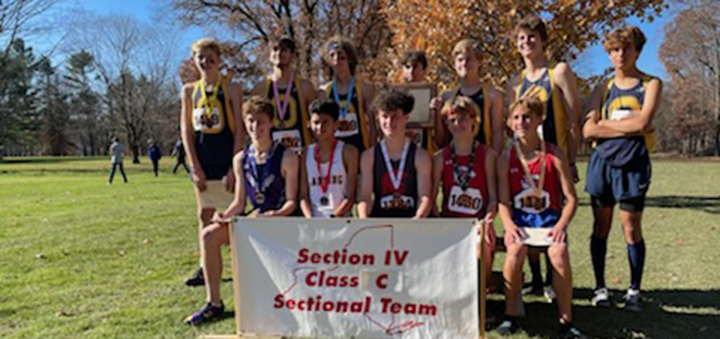 Norwich's Drew Brooks (bottom row on left) poses with fellow runners who qualified for states, including Oneonta's championship team. (Submitted Photo)
CHENANGO VALLEY – All eyes were on Norwich's Drew Brooks in Thursday's boys' cross country championships. Brooks, having a stellar senior year, gave Norwich something to be proud of.
He was the first Purple Tornado in 25 years to bring home a championship win. The win automatically qualifies him for States. He ran a 17:33.10 to achieve this milestone.
In Class C, Oneonta won overall for the boys' race, while Norwich came in sixth place. Aside from Brooks, Caden Sutton (21st), Zander Sutton (33rd), and Gabe Decker (49th) made the top 50 racers.
In the girls' race, Owego brought home a sectionals title while Afton/Harpursville/Bainbridge-Guilford came in third place.
Afton's Ethne Degan continues to strive for her team as she earned second place with a time of 19:50.50 behind Sus Valley's 19:26.60. Teammate Vanessa Brazee finished 17th while Madison Fleming came in 24th place.
Annie Boland and Kyra Brunick-Davis finished strong for Norwich. Boland finished 21st as Brunick-Davis finished in 34th place. The sophomores appreciate the experience to only make them stronger for the next years to come.
Unadilla Valley competed in the Class D championships, where Noah Pain and Brennan Finch went back-to-back in the 10th and 11th spots for the boys and Andrea Favinger came in ninth for the girls. Delhi won both races to win the Class D title.