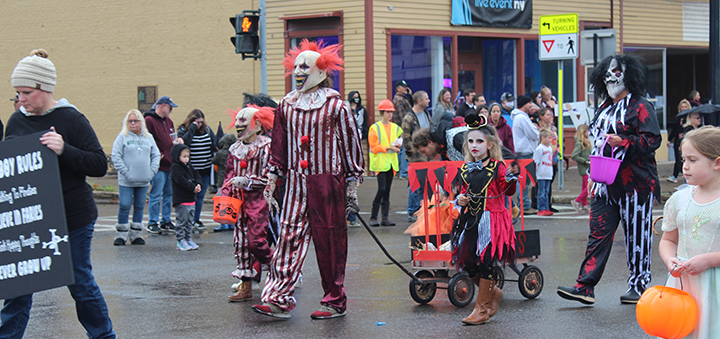 Participants in the Norwich Family YMCA Halloween Parade and Costume Contest in 2021. This year's parade will take place on Saturday, October 29, with lineup starting at 10:15 a.m. and the parade beginning at 11 a.m. (Photo by Sarah Genter)
NORWICH — The Norwich Family YMCA is celebrating Halloween in style once again this year with the annual Halloween Parade and Costume contest, set to begin at 11 a.m. on Saturday, October 29.
Lineup for the parade begins at 10:15 a.m. on the following streets:
The City of Norwich Police Department, Chenango County Sheriff's Department, NYS Police, Norwich Fire Department, Norwich EMS, and Perry Browne School on Beebe Avenue.
Holy Family School (100 years old, 1922-2022), the Brown Family (Westhill Witches), and Thomas Russell driving a 2021 Dodge Challenger on Francis Avenue.
Stanford Gibson (Our Future is so Bright We Have to Wear Shades), SUNY Morrisville Liberty Partnerships Program (Where's Waldo?), and Cub Scouts Pack 62 on Conkey Avenue.
The Norwich Family YMCA Nursery School (Pre-School Rocks) on Eaton Avenue.
All others interested in walking in the parade may line up on Front Street.
Following the parade will be the costume contest awards ceremony on the Chenango County Courthouse steps.
-Information provided by the Norwich Family YMCA.