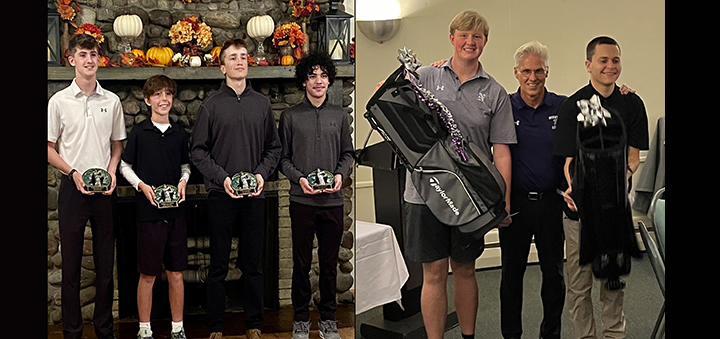 1) The 2022 Award Winners (L to R) : Jacob Dowdall (Most Valuable), Matthew Brunick (Rookie of the Year), Aiden Stafford (Coaches Award), and Julien Smith (Most Improved). 2) Coach Dave Branham with Seniors Logan Waters (left) and Ethan Guzewich (right). (Photos Submitted by Dave Branham)
NORWICH – The Norwich Purple Tornado golf team held its end of season Awards Banquet, where they celebrated seniors Logan Waters and Ethan Guzewich and reflected on a great 2022 season. Norwich finished in second place in sectionals at the beginning of October.
During the banquet, the following awards were handed out.
Most Valuable went to Jacob Dowdall, who led the team and whom coach Dave Branham spoke about turning into a "very good player" early on in the season.
Matthew Brunick earned Rookie of the Year as a seventh grader, who received the nod to play in the sixth position, especially vs Windsor, where he tied with Dowdall with a 52.
Aiden Stafford received the Coaches Award this year. Stafford is a familiar face to the Canasawacta Country Club year round and was a contender in the starting six in every match this season.
Julien Smith was honored with the Most Improved award for having the lowest stroke average on the team. Smith competed with Dowdall for top medalist this season. He also finished second behind Braden Reid (89) in Sectionals with a 93.
Congratulations to all award winners, the 2022 NHS Golf Team, and seniors Logan Waters and Ethan Guzewich.