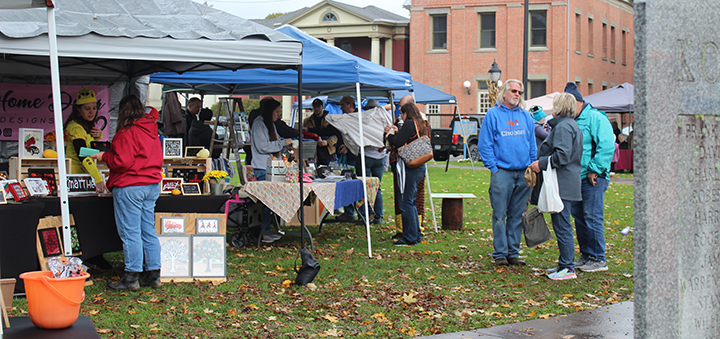 The inaugural Norwitch Fall Festival was held in 2021, and will return for its second year from 9 a.m. to 1 p.m. on Saturday, October 29 in Norwich's West Park. The festival has grown substantially since last year, and will feature over 70 vendors, a bounce house, hay rides, music, food, and more. (Photo by Sarah Genter)
NORWICH — The Norwitch Fall Festival, put on by the Norwich Business Improvement District (BID), is back and better than ever this year, returning to Norwich's West Park from 9 a.m. to 1 p.m. on Saturday, October 29.
The festival will be held in conjunction with Saturday in the Park with Chobani, which will have over 70 vendors on Saturday, and the Norwich Family YMCA Halloween Parade and Costume Contest, beginning at 11 a.m. and followed by an awards ceremony on the Chenango County Courthouse steps.
Attendees can also enjoy delicious barbecue chicken from the Columbus Public House, take a horse-drawn hay ride with the Waite Family, jump around in a bounce house donated by Live Event NY, get a tarot card reading, have fall family photos taken at the 5th Dimension Photography photo booth, warm up with coffee and breakfast sandwiches provided by the Norwich Rotary, and listen to music by performer Grady Thompson.
Plus, every purchase made at the festival will come with raffle tickets, which buyers can use to try their luck at winning a raffle basket.
"Every vendor that we have that offers a craft or something agricultural will offer up a donation, either a basket or an item, and everyone that makes a purchase at Saturday in the Park will get tickets for free to join into this raffle," said BID Board Member Mindy Chawgo. "We should have over 50 baskets, at least."
Those who have carved or painted pumpkins this year can also enter them into the Jack-o'-Lantern Contest. Chawgo said a designated tent will be set up in the park where attendees can drop off their pumpkins for the contest. Winners will be announced at the conclusion of the festival at 1 p.m.
Following the Norwitch Fall Festival will be the return of Trunk or Treat from 2 to 4 p.m. in the Frontier parking lot. Chawgo said more than 20 local businesses, nonprofits, and families will be handing out candy to trick or treaters.
"It's going to be a great day together in downtown Norwich. We are so excited for the finale of Saturday in the Park to end on such a high note," said Chawgo. "We are so fortunate to be surrounded by so many talented people, and we get the pleasure to bring them downtown for all of our fall needs and to make family memories."