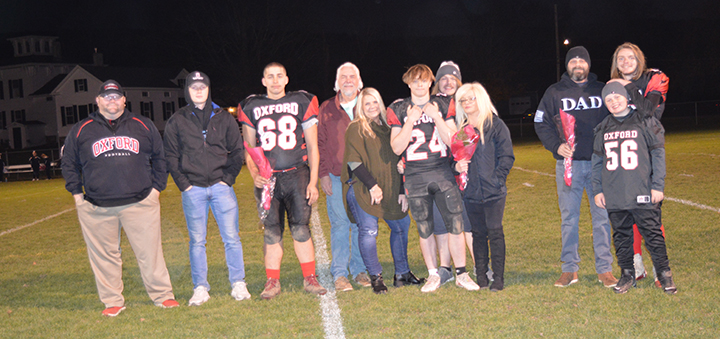 The Oxford Blackhawks football team honored its three seniors prior to the game against Moravia. (L to R): Coach Mitch Cluff, Trenton Lyons, Justin Marconi (#68), Kaden Hufnagle (#24) with family, David Tucker (#16) with family. (Photo by Morgan Golliver)
OXFORD – After making major improvements against Unadilla Valley in the previous week, Oxford was prepared to host a tough Moravia team.
Although they suffered a 40-6 loss, they were praised for the game play and their sportsmanship from the opponent's coaching staff, their fans, and their own coaches. The Blackhawks also played fierce against the number two team in the section, who took their starters out after a 37-0 lead at halftime.
Prior to the game, Oxford honored its three seniors. Justin Marconi, Kaden Hufnagle, and David Tucker were recognized for their dedication and commitment to the Blackhawks football program.
Tucker continued to bring light to the Oxford offense as he scored on a deep 78 yard pass from Jacob Gallo. Colten Button tried for the two-point conversion run but was just short of the goal line. He was proud to have run the ball as he usually helps out with blocking.
The Blackhawks will head to Thomas A. Edison on Saturday with a 1:30 p.m. start.
Other Scores:
Greene falls to Groton 42-8.
Unatego/Franklin defeats Unadilla Valley 34-16.
Walton tops Bainbridge-Guilford 44-7.
Sherburne-Earlville falls to Mount Markham 39-6.