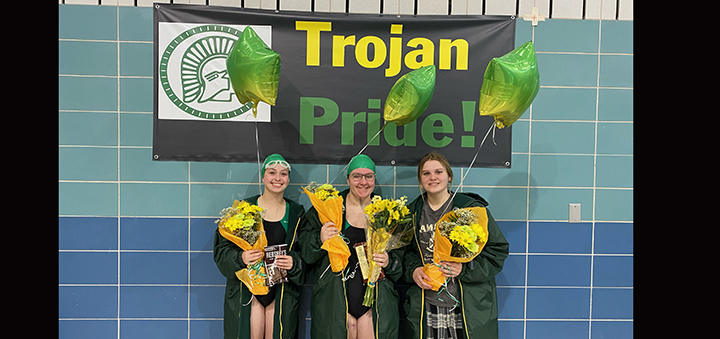 The 2022 Greene Girls Swim Seniors (L to R): Madison Pavlovich, Natalie Specht, and Stephanie Hall. (Submitted Photo)
GREENE – In Tuesday's tough 74-69 loss to Owego, the Greene Trojans girls swim team honored its three seniors. Natalie Specht, Madison Pavlovich and Stephanie Hall were recognized for their dedication and commitment to the swim program. Greene also recognized Owego's lone senior Maddie Allen.
Despite the loss, the Trojans saw several swimmers achieve best times.
Senior Madison Pavlovich swam a season-best in the 200 individual medley and in the 100 butterfly. She finished in first place for the individual medley with a time of 3:18.31 with teammate Mallory Jeffrey behind her in second. In the 100 yard butterfly, Pavlovich came in second with a time of 1:25.14.
Jeffrey earned second place in the 100 yard breaststroke, which was her best time of 1:48.71. Keeli Roe finished behind Jeffrey in third place.
Senior Natalie Specht also swam a season-best in the 500 freestyle event with a time of 8:48.33 in fourth place. Teammate Savannah Nowalk earned second place with a time of 7:28.69.
Nowalk had a first place finish in the 50 yard freestyle (32.05) as Alexis Clark achieved a best time of 36.99 seconds in second place and Lilly Funnell swam a best in fifth place (53.06). Clark also had another best time in the 100 freestyle with 1:23.49.
Greene (0-7) is still seeking its first win of the season and hopes it will come against Lansing on Tuesday, October 25. The meet will start at 5 p.m.