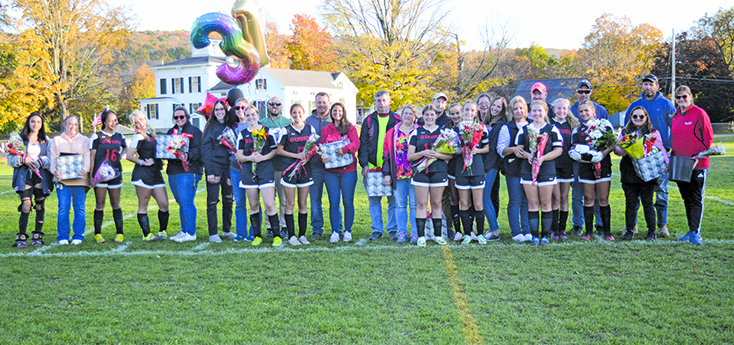 The 2022 Oxford Girls Soccer seniors and their families (L to R): Kyla Kelsey-Jones, Madison Long, Ella Kelsey, Taylor Smith, Brooke Huggins, Hailey Fleury, Jill Finch, and Bailey Chesebro, along with Coach Irene Dejager at the end. (Photo by Morgan Golliver)
OXFORD – On Friday afternoon, the Oxford Blackhawks girls' soccer team hosted Greene to kick off homecoming weekend and also celebrated senior night. Oxford defeated Greene 3-1.
The Blackhawks honored its eight seniors at halftime. Bailey Chesebro, Jill Finch, Hailey Fleury, Brooke Huggins, Ella Kelsey, Kyla Kelsey-Jones, Madison Long, and Taylor Smith were all honored and recognized for their dedication and commitment to the Blackhawks soccer program.
After a scoreless first half, the seniors saw plenty of action in the second half. Bailey Chesebro scored after rebounding her own ball to get Oxford on the board. Shortly after, Taylor Smith received a beautiful pass from Hailey Fleury to score on a corner kick.
The Trojans finally answered back as Audra Doll found a nice route and dribbled through to the net past goalie Madison Long. Long made six saves in the win.
While that one hurt Oxford, it did not stop them from regaining confidence. Jocie Finch scored off a pass from Paige Rickard to secure the victory.
Molly Cornell made six saves in goal for the Trojans in the loss.
Oxford also substituted its seniors at the end of the game and brought in its JV players for some playing time.
Both teams appreciated this game as it gave them preparation for Sectionals coming up early this week.
Oxford is back in action on Tuesday as they host Charlotte Valley at 5 p.m. while Greene is on the road, taking on Unatego on Friday, October 21 at 3:30 p.m. Admission could be charged to fans planning on attending these games.
Scores by Half
OX 0 3–3
GR 0 1—1
Goals-Assists: OX, Bailey Chesebro 1-0, Taylor Smith 1-0, Jocie Finch 1-0, Hailey Fleury 0-1, Paige Rickard 0-1.
Shots-Corner kicks: OX 14-5, GR 8-1.
Saves: OX, Madison Long 6, Christine Seiler 0; GR, Molly Cornell 6.