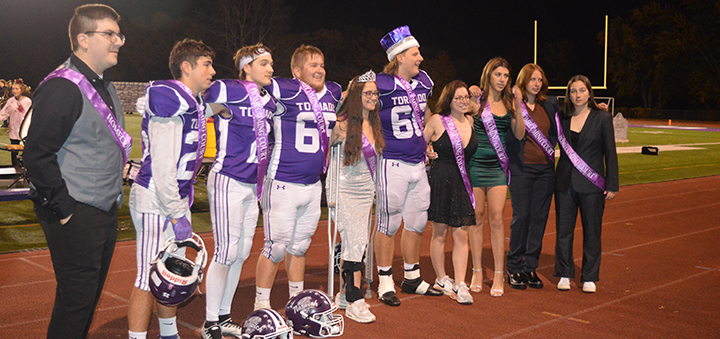 Pictured from L to R: Caleb Nichols, Kyle Linger, Max Morris, Jake Llewellyn, Emily Flynn (Royalty), Harrison Matlack-Grey (Royalty), Alexandra Roque, Kayla Sherman, Katie Zieno, and Sarah Davis. (Photo by Morgan Golliver)
NORWICH – At halftime of the Norwich-Chenango Valley game, the 2022 Norwich Homecoming court was announced with the crowning of royalty. Sarah Davis, Emily Flynn, and Alexandra Roque represented the NHS Soccer team. Kayla Sherman honored the NHS Volleyball team while Katie Zieno proudly supported the NHS Tennis team.
Jake Llewellyn, Kyle Linger, Harrison Matlock-Grey, and Max Morris stepped off the field and joined peers on the track. Caleb Nichols represented the Art Club as well many other activities he is involved in at Norwich High School.
These seniors were elected on the homecoming court for showing school spirit, going above and beyond, for their participation in their athletics, clubs, and other activities, and for their overall respect and responsibilities.
Their peers and classmates ranging from ninth to 12th grade had the honor of selecting Harrison Matlock-Grey and Emily Flynn as 2022 royalty.