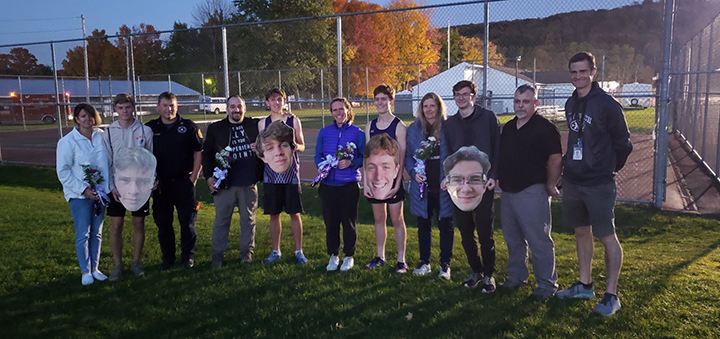 The 2022 Norwich Cross Country Seniors: Nate Franklin, Donovan Gillen, Drew Brooks, and Zander Sutton. (Photo from NCSD Purple Tornado)
NORWICH – Coming fresh off the Tornado 5000 invite, Norwich cross country was back in action for the STAC East Division Championship. Oneonta, Sus Valley, and Windsor were also prepared for the meet.
For the Boys, Oneonta finished in first place with 21 points and Norwich came in second with 40 points.
Norwich's Drew Brooks finished on top of the leaderboard with a time of 17:34. Oneonta reigned the rest of the top five while Caden Sutton earned a sixth place finish. Anthony Bourne found the 10th place spot with Zander Sutton not far behind him in 12th.
Norwich also honored seniors Drew Brooks, Zander Sutton, Nate Franklin (17th place), and Donovan Gillen (29th place). These gentleman were celebrated and thanked for their dedication and commitment to the cross country program.
Oneonta had luck on their side for the girls race as they finished with 20 points over Sus Valley's 35. Norwich and Windsor did not have enough runners to fill up the team scores.
Sus Valley's Brynn Hogan earned a first place finish with a time of 19:15. Norwich's Anne Boland and Kyra Brunick-Davis finished seventh and eighth to conclude the day.
Norwich Cross Country will be at the Marathon Invite on Saturday, October 15.