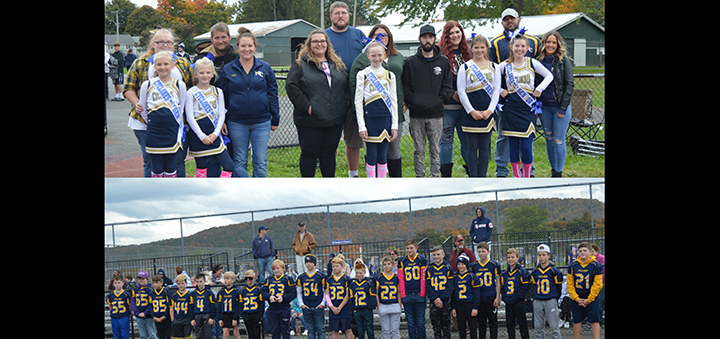 1) Cyclones Senior Cheerleaders: Trinity and Tamara Pittsley, Nevaeh Fowlston, Emily Archer, and Aubree Carpenter. 2) Cyclones Senior Football players: William Weeks, Riley Hinman, Colten Thompson, Malakai Hagenbuch, Noah Schack, Jason Daring, Keith Monroe, Trenton Dockray, Jackson Young, Aiden Young, Justin Peck, Cooper and Carter Chrystie, Luke Waters, Brayden Lawrence, Baylen Miller, Willie Sherman, Carter Newton, and Tyrus Sherman (not in order). (Photos by Morgan Golliver)
NORWICH – On Sunday, the Norwich Cyclones cheer and football program honored its sixth grade athletes and thanked them for their dedication and commitment to the program.
The Cyclones will be hosting the first round of playoffs on Sunday, October 16 at Ulrich Field.
The flag football team kicks the day off against Susquehanna, PA at noon. The B team, who did not make the playoffs, will be playing a cross-over game against Chenango Forks/SV at 1:30 p.m. The A team will conclude the day, facing Montrose at 3:30 p.m.