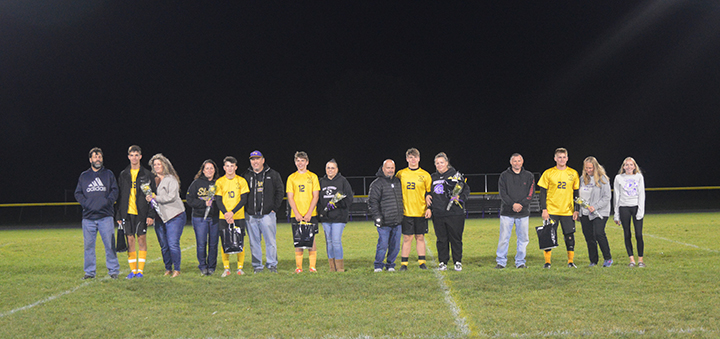 UV/GMU seniors with their families, pictured L to R: Corbin Demmon, Owen Hill, Dakota Johnson, Trason Murray, and Trent Marinelli. (Photo by Morgan Golliver)
NEW BERLIN – On a stormy Thursday evening, the UV/GMU boys soccer team defeated Sidney 8-2 on Senior Night. The Storm scored four goals in the first half and four in the second half.
Three of the eight goals came from Senior Trason Murray. He scored his first goal off a pass from Devin Hartwell. His second came with an empty net as the goalie came out to attempt to defend. The hat-trick came off a nice pass from teammate and fellow senior Owen Hill.
Hill had two goals on the night, including one in the opening minute of the first half. Senior Corbin Demmon saw some action as well and scored off a pass from Hartwell. Hartwell picked up three assists and even scored in the second half.
Haywood Edwards also helped out with the scoring on a goal from about 5-10 yards out.
To celebrate a great win, the five seniors were recognized following the game. Owen Hill, Trason Murray, Corbin Demmon, Dakota Johnson, and Trent Marinelli were honored for their dedication to the UV/GMU soccer program.
UV/GMU is back at it in Edmeston on Saturday at 4 p.m.
Scores by Half
UV/G 4 4–8
SID 1 1–2
Goals-Assists: UV/G, Owen Hill 2-1, Trason Murray 3-0, Corbin Demmon 1-0, Devin Hartwell 1-3, Haywood Edwards 1-0. SID, Travis Weeden 2-0.
Shots-Corners: UV/G, 32-7, SID 2-0
Saves: UV/G, Tucker Cattanach 0, Jeffrey Barnes 0. SID (Combined): 9