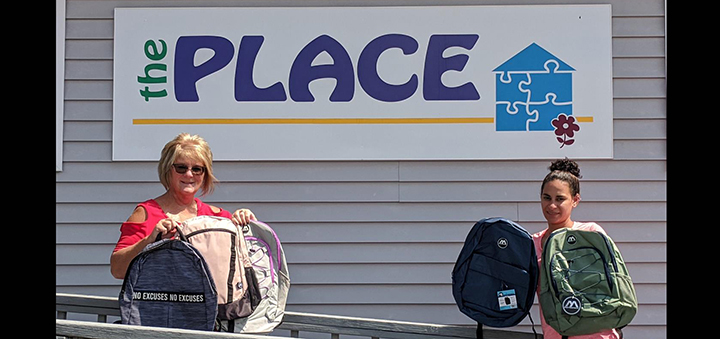 Robin Martin, Community Outreach Specialist at Preferred Mutual Insurance Company donates backpacks and school supplies for Chenango County youth at The Place. Alexis Gantt, Team Member at The Place helps with the delivery of the backpacks and school supplies from Preferred Mutual. (Submitted photo)
NEW BERLIN — With the new school year starting, some Chenango County families find it difficult to provide their children with their required school supplies. To assist those families, The Place collaborated with local businesses and organizations to facilitate a School Supply Giveaway for Chenango County students.
Preferred Mutual Insurance Company was among several community businesses and organizations that donated backpacks and back-to-school supplies to help the county's children prepare for school.
"It means a lot to all of us at Preferred Mutual to know that we helped children and their families in need in our community start the school year with a new backpack and supplies," shared Jenifer Rinehart, Executive Vice President, Chief Human Resources Officer, Equity and Inclusion Officer at Preferred Mutual.
During the four-day event, team members from The Place distributed school supplies to 315 students from school districts throughout Chenango County.
"While we were aware of the need that some families had for assistance, we were surprised that the need was so great and widespread," said The Place Executive Director Sharon Vesely. "The team at The Place was grateful to collaborate with local organizations and businesses to make this possible."
Preferred Mutual Insurance Company provides property and casualty insurance coverage to more than 232,000 individual and business customers through a network of more than 500 independent agents located throughout New York, New Jersey, Massachusetts, and New Hampshire.
In business since 1896, Preferred Mutual is rated "A" by AM Best Company and is headquartered in New Berlin, New York. Learn more at PreferredMutual.com.
-Information provided by Preferred Mutual