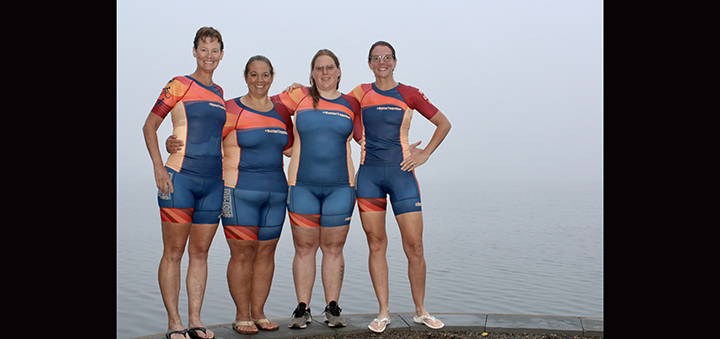 BetterTogether Kits 22. Pictured from left to right:  Sue Kulis, Joyel Schaefer, Carol Moore, and Megan Rodriguez (Courtesy of Megan Rodriguez)
Better Together: More than just a motto
It's truly what we do and who we are. Triathlon has brought this unlikely group of women together in the Norwich and surrounding areas and God has certainly enriched our lives in the process. Joyel Schaefer was the first to succumb to the lure of sport a number of years ago and she encouraged Megan Rodriguez into it. Carol Moore then found us…or we found her and she's now stuck. After that Sue Kulis was next to fall victim to the call of tri. Dorothy is currently in the process of falling in love with triathlon…or at least with our group.
What began as a few sprint and Olympic distance triathlons turned into bigger road trips pursuing IronMan 70.3s. Then someone, we won't name any names or cast any blame, but someone in the group thought perhaps we should keep on upping the adventure and set our sights on a full IronMan 140.6!
So here we are a few days out from IronMan Maryland, with three of us trained up for a 2.4 mile swim followed by a 112 mile bike and ending with a marathon of 26.2 miles of running, walking or crawling to the red carpet finish line.
We're so blessed that the other two women in our immediate group, along with a bunch more friends and family, will be traveling down to Cambridge with us as support and our cheering squad on Saturday the 17th.
We must also give a huge shout out to the generosity of Jim Webb and Lok-N-Logs for sponsoring our custom #BetterTogether tri kits. A lot can happen on race day with jelly fish, bumps in the road and dark port a-potties, but we're excited that we get to look and try our best all because of this wonderfully supportive community.
-Information from Michael and Megan Rodriguez