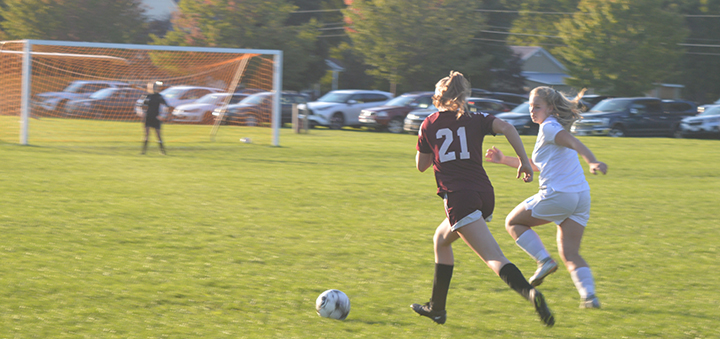 S-E's Savanna Hook (#21) dribbles the ball, providing a good run on offense. (Photo by Morgan Golliver)
SHERBURNE – On Thursday afternoon, the Sherburne-Earlville Girls Soccer Team hosted Mount Markham to begin league play. The Mustangs got the best of them with a 9-0 win.
S-E had potential on offense, but Mount Markham played a strong defense off their mishaps. All game, S-E was held without a shot on goal, only earning a corner kick late in the second half.
SE started the half down 2-0. While S-E tried step up their defense in the second half, it didn't stop the Mustangs from scoring seven goals off their strong high kicks. Goalie Abby Shaver did, however, save 11 of the 27 shots on goal.
Sherburne-Earlville currently sits at 0-5 on the season and are still looking to pick up their first win. They look to do just that against Sauquoit Valley on Monday, September 19 at 4:30 p.m.
Scores by Half
MM 2 7—9
SE 0 0—0
Shots-Cornerkicks: SE 0-1, MM 27-7
Saves: MM 0, (SE) Abby Shaver 11