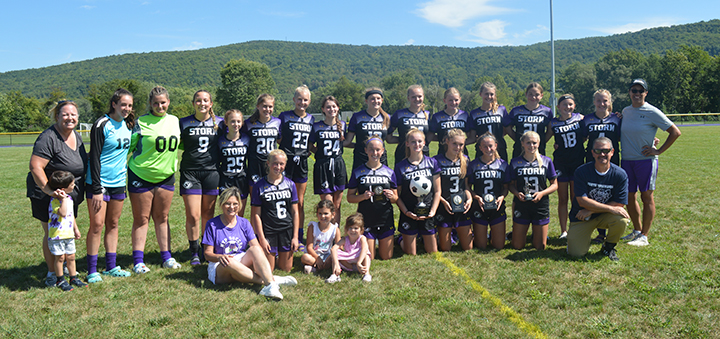 The Unadilla Valley Storm girls soccer team won the NY Pizzeria Tournament for the second consecutive year. The team and their coaches pose with the trophy and all-tournament plaques alongside Betsy Baio, owner of NY Pizzeria and her granddaughters. (Photo by Morgan Golliver)
NEW BERLIN – This past weekend, the Unadilla Valley girls soccer team hosted its annual NY Pizzeria Tournament, where they defeated GMU and Cherry Valley/Springfield. It was UV's second consecutive tournament win after winning it all in 2021.
In the first game against GMU, there was no score after the first half. The Storm scored early in the second half with goals from Kadence York and Gracie Gorrell. Gorrell also picked up an assist.
Kailee Figger, the Tournament's MVP, scored twice to finish the game.
UV won 4-0 and saw assists from Lyla Taylor and Natalie Crandall. Goalie Kalie Fernandez-Naughton made one save in 60 minutes of play while Brynn Grant played the last 20 minutes and made a save in the win.
In the championship game against Cherry Valley/Springfield, the game was tied 1-1 at halftime. York scored the first goal for the Storm after the ball bounced off several players.
In the second half, Jaiden Schrag scored off a pass by Kailee Figger in the first minute of play. Natalie Crandall scored two minutes later after she dribbed the far right of the field and made a shot that went directly in. UV goalies combined with eight saves in the 3-1 win over Cherry Valley/Springfield.
UV's Bella Potter, Jaiden Schrag, and Kadence York made the All-Tournament team while Kailee Figger was named Tournament MVP.
The Storm head to Bainbridge-Guilford for 4:30 p.m. matchup on Thursday, September 15.