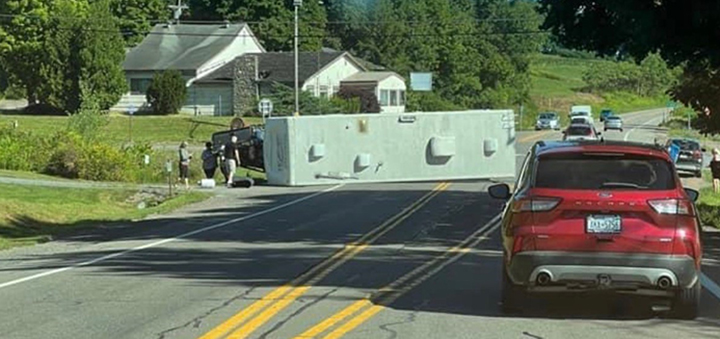 Route 12 in Norwich was closed on both Thursday, August 11 and Friday, August 12 due to traffic accidents. (Submitted photo)
NORWICH — On Thursday, August 11 at 3:59 p.m. and again on Friday, August 12 at 9:53 a.m., traffic had to be re-routed due to accidents just North of the City of Norwich.
The first accident occurred at 6401 State Highway 12 when a north bound SUV rear ended a pickup truck waiting to make a left turn into a business. The collision pushed the pickup truck into the path of a south bound SUV resulting in a head-on collision.
One victim was trapped in their vehicle which required them to be extricated from the vehicle. That victim was eventually flown to University Hospital in Syracuse by Mercy Flight out of Rome, NY.
Responding to the first accident was the Chenango County Sheriff's Office and the Norwich Fire Department. The North Norwich Fire Department assisted with Route 12 traffic closure and the Sherburne Fire Department with a landing zone for Mercy Flight. Route 12 traffic was re-routed for approximately 1.5 hours during the incident.
The second accident occurred on Friday morning at the County Road 44 and Route 12 intersection, when an east bound pickup truck towing a camper lost its brakes descending the hill down County Road 44.
The truck/trailer was unable to stop at the intersection, and as a result, the trailer rolled onto its side as the driver tried to make the right turn onto Route 12. Fortunately, no one was injured in this accident.
Responding to this accident was the New York State Police and the Norwich Fire Department. At this accident, the North Norwich and Plymouth Fire Departments assisted with re-routing traffic for approximately 1.5 hours during the road closure.
-Information provided by the Norwich Police Department