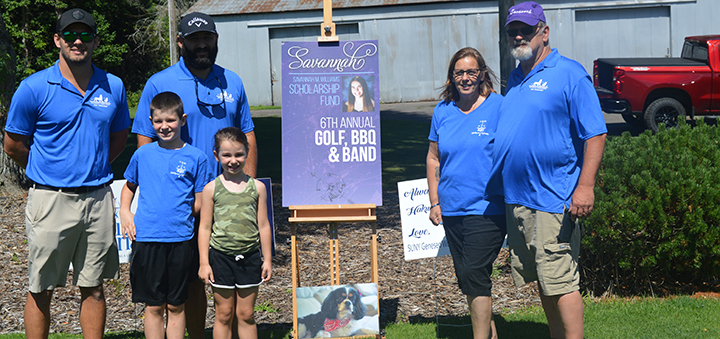 The 2022 Savannah Marie Williams Memorial Scholarship Golf Fundraiser was a success on Saturday. Pictured is her family by the memory sign, along with a photo of her dog, Meeka. Her brothers Alex (far left) and Zach teed off together. To the far right are her parents Shari and Mark Williams. (Photo by Morgan Golliver)
NORWICH – The 6th annual Savannah Marie Williams Memorial Scholarship Golf Fundraiser took place on Saturday, where 27 teams played 18 holes of golf in her memory.
It was a beautiful cloudy and sunny afternoon.
Many participants were friends and family of Savannah's, including members of the SUNY Geneseo Women's Basketball team.
Savannah's older brothers, Alex and Zach Williams, golfed in her honor and finished with a 65, six-under par, on the day. The Seiler family, Scotty, Corey, Scott Sr. and Linda, had the best score of a 56.
After the round, golfers and their guests enjoyed a BBQ and entertainment from the Beadle Brothers. Matt Beadle had to jump on stage after golfing an impressive 58 with his group of Nate Scheer, Brayden Beadle, and Brenon Maynard, achieving second place.
The Williams family, along with the Savannah Marie Williams Scholarship Committee, thanks everyone for coming out and playing for Savannah. This wonderful event for a great cause is always anticipated each year and participants are already looking forward to the next year's.