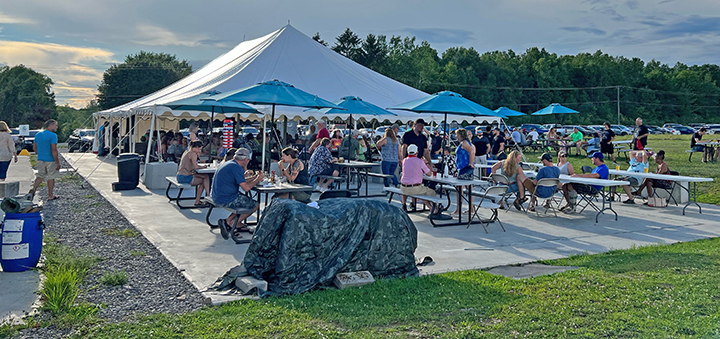 Attendees at the second annual Chenango SPCA Paws and Pints fundraiser at Hidden Springs Brewhouse in Norwich. The event drew in crowds of Chenango County residents, and raised $1,766 for the Chenango SPCA. (Photo by Sarah Genter)
CHENANGO COUNTY — The Chenango SPCA held their second annual Paws and Pints fundraiser on Saturday, which raised $1,766 for the shelter and the animals in their care.
The event was held at Hidden Springs Brewhouse in Norwich, and featured games, a bake sale, a 50/50 raffle, T-shirt sales, food by Hubcap Munchies, and ice cream provided by Gilligan's Island.
Musical performances included Front Porch Harmony and The Sundown Band, and magician Ryan Bliss from CNY Magic regaled attendees with slight of hand and magic tricks.
"We want to thank those who braved the heat and especially to thank our sponsors: Oliver's Campers, Hidden Springs Brew House, Gilligan's Island Ice Cream, and Staffworks," said Chenango SPCA Executive Director Annette Clarke. "It was a great crowd with wonderful music and a talented magician. Also a thank you to all of our bakers, the CSPCA Board of Directors, and anyone else who helped."
The Chenango SPCA currently has 119 cats and seven dogs available for adoption. A full list of adoptable animals can be found at ChenangoSPCA.org.
For more information on the Chenango SPCA and upcoming fundraisers, events, and adoption specials, check out the Chenango SPCA Facebook page.