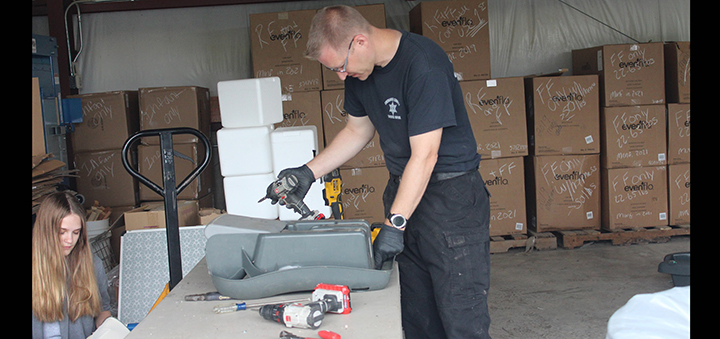 Chenango County Undersheriff Joshua Gould dismantles an old car seat for recycling and disposal. The Sheriff's Office collected dozens of expired and damaged car seats during its Car Seat Inspection and Installation Program in 2021. The program will run again this year, thanks to a recent allotment of state funding. (Photo by the Chenango County Sheriff's Office).
NORWICH – The Chenango County Sheriff's Office is slated for an additional $4,000 from New York State to bolster efforts of keeping children safe on the road.
The allotment comes by way of the New York State Governor's Traffic Safety Committee, a coordinating agency that handles traffic safety activities in the state, including child safety seat usage. The Chenango County Sheriff's Office has been an active participant in the state program for more than two decades.
Money will be allocated for the sheriff's Child Safety Seat Inspection and Installation Program, which provides free child passenger safety seat inspections. The sheriff's office will also replace post-expiration or unsafe car seats with a newly certified one.
There are other criteria that also need to be met before a replacement seat can be obtained. In 2021, Chenango County had one NYS certified instructor and nine NYS certified child safety seat installation technicians who were able to inspect or install car seats and demonstrate to caregivers the proper fit and installation.
It may be possible to have a booster seat replaced, but an appointment with one of the technicians is needed to ensure the seat is no longer safe. A caregiver must also meet other eligible criteria in order to have the seat replaced.
New York State law requires all children under eight years old to be restrained in an appropriate child restraint system while riding in a motor vehicle. Effective November 1, 2019, all children under the age of two must ride in a rear-facing car seat.