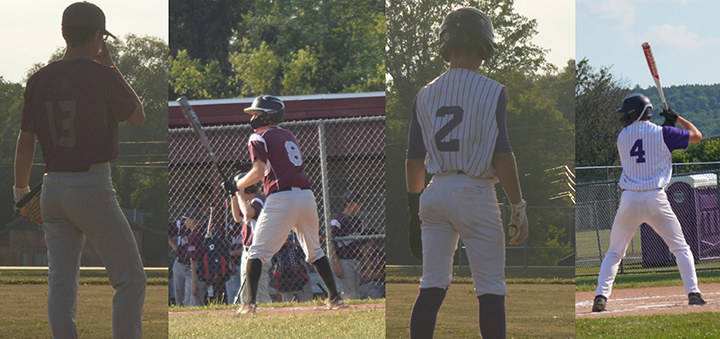 Sherburne's Espn Anderson (#13) and teammate Trent Marinelli (#8) will be participating in the 2022 Pony League All-Star Game. Zack Parker (#2) and Kaden Downey (#4) are proud to represent Norwich (Photos by Morgan Golliver)
CHENANGO COUNTY – After Oneonta I defeated Schenevus in the pony league championship game, the rosters are set for the 2022 All-Star game. Norwich and Sherburne each have selected two respective players.
Kaden Downey and Zack Parker will represent Norwich, coached by Art Rigas, while playing against Espn Anderson and Trent Marinelli for Sherburne who are coached by Schenevus' coach Jim Gaske.
Downey spent the season at center field while teammate Parker played around the infield at shortstop and behind the plate as the catcher.
Anderson was solid at both third base and shortstop and saw some action on the mound for the Marauders while Marinelli played anywhere the team needed him as a strong utility player.
The 2022 Otsenango All-Star game is this evening (Thursday) at Oneonta High School with a game time set for 5 p.m. Both teams will play a nine-inning game, allowing all players to be in the lineup and have an equal amount of playing time rather than a casual seven inning game.
Good luck to all the players.
— Information from the Pony League