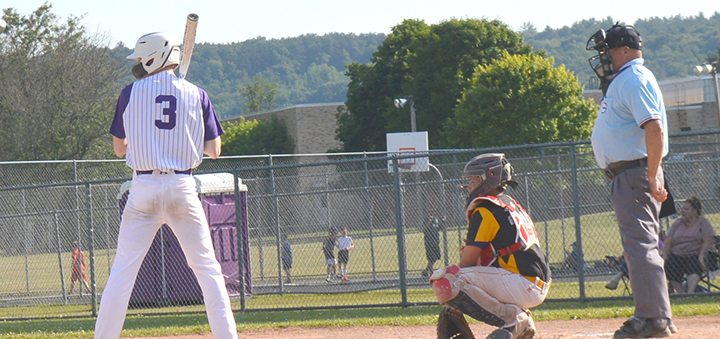 Norwich's Colin Olds #3 goes 3-for-4 vs Edmeston, including a grand slam. (Photo from July 1's game by Morgan Golliver)
NORWICH – With the game tied at eight a piece, the Norwich pony league team put up a 13 run fifth inning to defeat Edmeston 21-8 on Thursday.
Colin Olds led Norwich at the plate, going 3-for-4, including a grand slam in the fifth inning and contributed with a total of six RBIs.
Norwich finished with 15 hits on the day. Olds, Zack Parker, Graham Burton, Anthony Pomares, and Jackson Sastri each had multiple hits while Jaxson Francis, Owen Olds, and Braden Reid each had one hit in the win. The Purple Tornado stole eight bases on the day with three from Parker.
Norwich looks to stay hot as they host Cooperstown for a doubleheader this evening. Game time will be 5 p.m.
Box Score
Runs by Inning R H E
Edmeston
3-0-0-2-3 8 8 2
Norwich
2-4-0-2-13 21 15 3