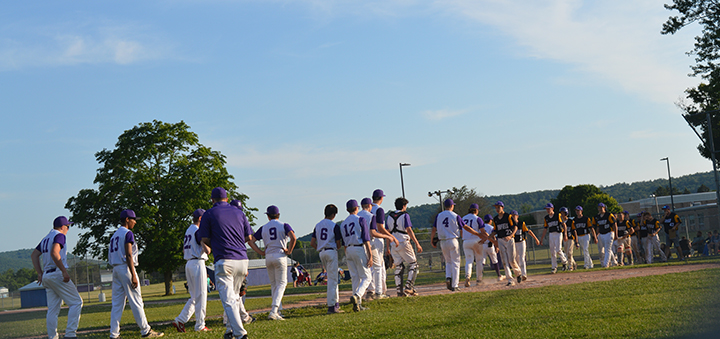 Following the last out, Norwich and Richfield Springs shake hands after the game (photo by Morgan Golliver)
NORWICH – The Norwich pony league team held onto a 5-3 lead over Richfield Springs to win the game on Thursday.
After Richfield Springs tied the game in the fifth inning, Norwich's bats stayed alive to score in the bottom of the fifth and sixth to seal the deal.
Graham Burton drove in two runs on the day with an RBI double to bring home Kaden Downey in the first and an RBI single in the fifth as Zack Parker scored the go-ahead run. Parker and teammate Kassen Stubb each contributed with a RBI and both finished 2-for-3. Braden Reid also hit a double to deep center and scored on Owen Olds' groundout in the fourth inning.
On the mound, Graham Burton went 5.1 innings with 86 pitches and 12 strikeouts, including a crucial strikeout with a runner on third base in the fifth. Braden Reid came on in relief and kept Richfield Springs off the board with three strikeouts in the seventh to close the game.
Norwich travels to Cooperstown on Tuesday for a game starting at 6 p.m.