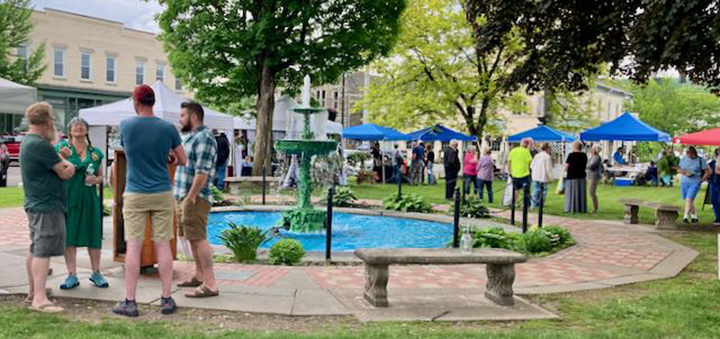 The Oxford Farmers' Market will be open Saturday, June 25 from 9 a.m. to noon in Lafayette Park in Oxford. Taking the stage at this week's Market will be composer George Anderson, with his performance beginning at 10 a.m. (Submitted photo)
OXFORD — With the cost of store-bought food going up precipitously, local farmers' markets in our region have become more important than ever, offering direct-from-farm access to the freshest seasonal produce, meats and dairy.
Small scale production and products often picked or baked the day of the market mean that food at farmers' markets is fresher and thus more nutritious. It's also produced by people right here in our area, so buying locally supports our local economies. A win for everyone.
The Oxford Farmers' Market hosts dozens of vendors from 9 a.m. to noon, who sell high-quality and reasonably priced farm products, including fresh picked seasonal produce; eggs, milk, cheese, butter, and yogurt; locally raised and processed beef, pork, lamb, and chicken; fresh-baked breads, pies, cookies, and scones; locally grown and milled grains and flours; syrup and honey harvested right here in Chenango County; local hard ciders; hand-made soaps; and exquisitely hand-crafted items for the kitchen and home.
This Saturday, June 25, the Market will welcome composer George Anderson back to the Bandstand, encouraging community members to come shop and also to linger. The Market is open from 9 a.m. to noon in Lafayette Park with live music starting at 10 a.m.
For more information about the Oxford Farmers' Market, vendors and a full performances and to sign up for their weekly newsletter, visit their website at oxfordfarmersmarket.org.
-Information provided by the Oxford Farmers' Market