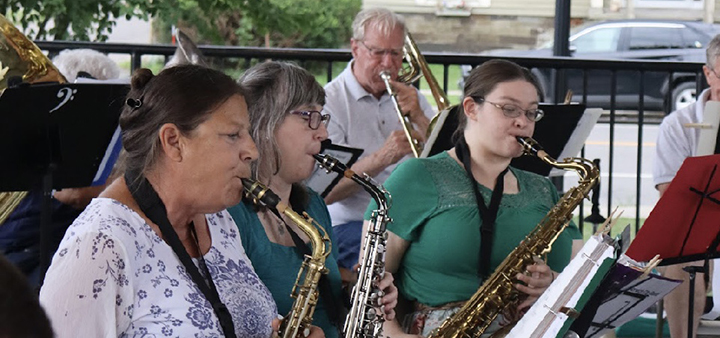 The Norwich City Band summer concerts will play 7 to 8 p.m., every Friday, in East Park until August 12. (Submitted photo)
NORWICH – The Norwich City Band 2022 summer concert season has begun in East Park with a rehearsal on June 24, and Friday concerts every week until August 12.
Rehearsals will be from 6:30 to 8 p.m. Concerts will be from 7 to 8 p.m.
Prior to its first concert in East Side Park, the Norwich City Band will start off its concert season at the Sherburne Park on July 6, from 6 to 8:30 p.m.
Other additional concerts include: Pathfinder Village in Edmeston on August 7 at 3 p.m., and possibly the Vet's Home in Oxford on July 27 at 6 p.m.
Additional musicians are invited to play in the band's summer concerts. Musicians will be paid a stipend when attending a rehearsal and/or concert. A perfect attendance bonus will be paid for attending all. Chairs will be provided by the city.
Gary Solomon is in his 18th year as conductor of the Norwich City Band. He is a retired instrumental Music Teacher, having served the Sherburne-Earlville school district for 30 years. Gary studied at the Boston Conservatory of Music, received an undergraduate degree in Music Education  from the New Jersey City University, and a Master's Degree in Trumpet Performance from Binghamton University. Currently, he is the Trumpet Accompanist with the Colgate University Jazz Ensemble, and also performs in pit orchestras for musical theater productions.
For the past 120 years, the Norwich City Band has been playing in East Side Park during the summer months. Entertaining the residents and visitors has been the band's mission as well as giving area adult and student musicians and conductor a place to display their talent. Prior to construction of the current bandstand, the Norwich City Band held its summer concerts in the beautiful gazebo when it was located in the center of East Side Park.
– Information from the Norwich City Band