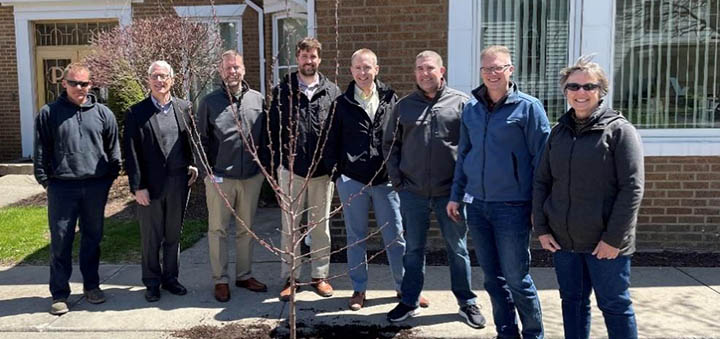 Landscaping crew members include Village of New Berlin DPW Commissioner Jim Crawford, Peter Lennon, Village of New Berlin Mayor Peter Lennon, Preferred Mutual Business Services team members Mike Asma, Tony Lorence, Rob Murrer, Jeff Miller, and Trevor Wakefield, and Village of New Berlin Buildings and Grounds Commissioner Maryellen Canuel. (Submitted photo)
NEW BERLIN — Preferred Mutual Insurance Company has actively promoted its commitment to protecting our environment by implementing paperless systems to its operational efficiencies.
"It is our responsibility to do all that we can to protect the environment. It is important changes like this that make a difference to our policyholders so that they can live assured," shared Trevor Wakefield, Business Services Unit Manager for Preferred Mutual Insurance Company.
Paperless systems of operation have proven to be an effective tool to not only conserve natural resources, but also provide a much higher level of security for sensitive information.
The promotion ended on Friday, April 29, Arbor Day, and was marked by the donation of seven trees to the Village of New Berlin. One of the seven trees was planted in front of the Preferred Mutual Insurance Company building to replace the tree that was uprooted earlier in the year. The remaining six trees were planted in Fairview Cemetery to replace those that were destroyed by the difficult winter.
Preferred Mutual Insurance Company provides property and casualty insurance coverage to more than 232,000 individual and business customers through a network of more than 500 independent agents located throughout New York, New Jersey, Massachusetts and New Hampshire.
In business since 1896, Preferred Mutual is rated "A" by A.M. Best Company and is headquartered in New Berlin, New York. Learn more at preferredmutual.com.
-Information provided by Preferred Mutual