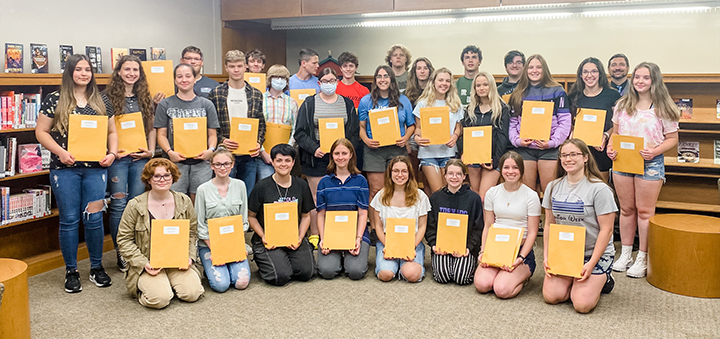 Norwich High School Principal Scott Graham presented 30 NHS students with scholarships ranging in value from $4,000 to $120,000 that can be used over the course of four years at the college that awarded the scholarship. (Submitted photo)
NORWICH — On Thursday, June 2, Norwich High School Principal Mr. Scott Graham presented junior scholarships to 30 students. The funds are provided by specific colleges and universities, which can be utilized if the student choses to attend their school. The scholarships are valued anywhere from $4,000 to $120,000 over the course of four years.
Students must be ranked in the top of their class and exhibit leadership skills and involvement in extra-curricular activities and community service. They excel both inside and outside of the classroom. NHS is extremely proud of these students and wish them well in their future endeavors
Students who were awarded scholarships include Emma Brooks, Isabella Natoli, Drew Brooks, Caleb Nichols, Sarah Davis, Adrianna Palmer, Mason Edwards, Halie Rotundo, Alexandria Fink, Alexandra Roque, Natalee Franklin, Elli Ryan, Nathan Frankin, Madisyn Ryan, Donovan Gillen, Elle Sherry, Kaylee Hamilton, Nora Thompson, Denise Hodge, Aleksander Smietana, Elspeth Hunter, Devon Sitts, Caiden Lewis, Cameron VanHouton, Megan Lindridge, Madison Vaughn, Allyson Manwarren, Parker Wier, Harrison Matlack-Grey, and Kaitlyn Zieno.
-Information provided by the Norwich High School