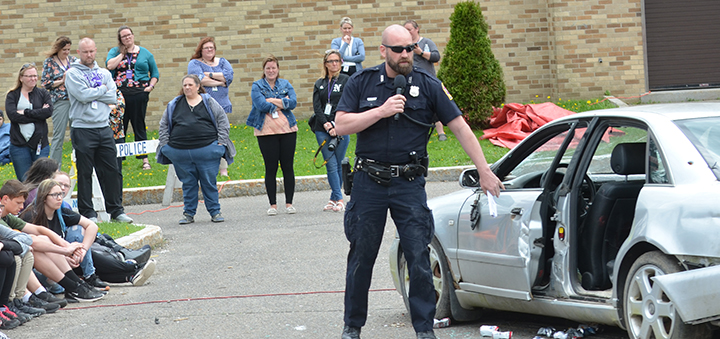 Norwich Police Department Officer and School Resource Officer (SRO) Brandon Clarke addressing students during the Norwich High School mock crash on Tuesday, May 17. Clarke's position as an SRO has been used both as a way to keep students safe, and as an opportunity to teach them about the law, drugs and alcohol, and the law enforcement field. (Photo by Tyler Murphy)
NORWICH — The Norwich City School District (NCSD) and the City of Norwich finalized an agreement last month to change the School Resource Officer (SRO) position within the school district from part-time to full-time.
The purpose of having an SRO in the schools is to bolster student and staff safety, as well as foster positive relationships and associations between children and police.
"We've been working with the city since October to develop an agreement, and finally it's come to fruition," said NCSD Superintendent Scott Ryan. "It's someone that has a pulse on what's happening with our student body, it's a resource for kids, it's a resource for our teachers, for our administrators, and really for our community."
Norwich Police Department (NPD) Officer Brandon Clarke was appointed as the SRO in January of this year. Ryan said the position began on a part-time basis, with Clarke spending two and a half hours in the middle and high schools each day.
Now, a police officers will be in Norwich schools for full eight-hour days, up to 150 days per year, interacting with students in preschool through 12th grade. According to NPD Chief Rodney Marsh, the school district will be paying for the hours the SRO is in the schools. Over the summers when school is not in session, Clarke will return to regular patrol and be paid by the city.