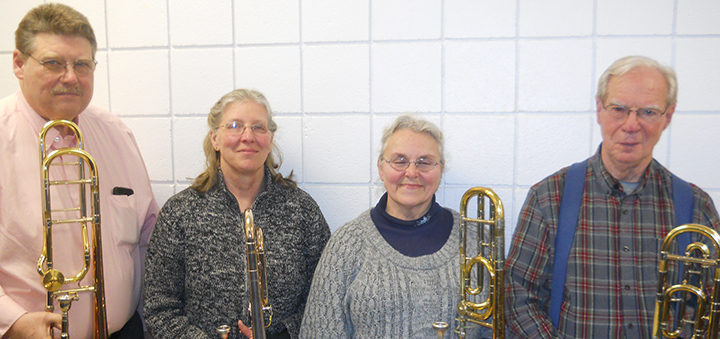 The Trombone Line: Mike Jones, Colene Vonberg, Becky Sabin, and Lee Wilhelm. The trombone, along with percussion, is a most visible instrument due to its slide motion. It is also given the counter-melody parts that really round out a performance. (Submitted photo)
NORWICH — The Mid-York Concert Band will present its annual Spring Concert, A Musical Road Trip, on Sunday, May 22, at 2:30 p.m. in the Norwich High School Auditorium.
Besides our annual Salute to Our Armed Forces, our road trip stops will include: Kansas, New Mexico, Ohio, Florida and New York.
This concert is made possible with public funds from the Decentralization Program, a regrant program of the New York State Council on the Arts with the support of the Governor and the New York State Legislature and administered by The Earlville Opera House.