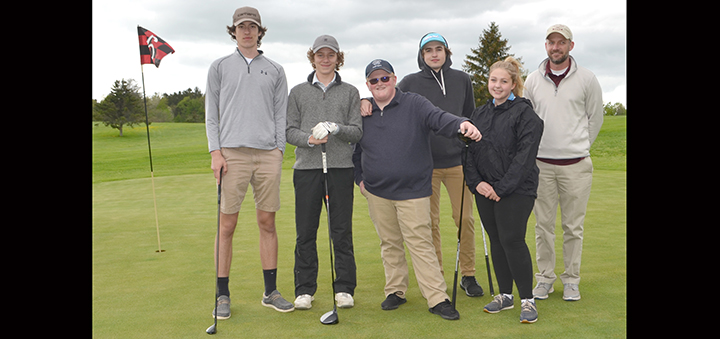 Sherburne–Earlville golf team seniors Zach Trass, Andy Fern, Jake Baker, Evan Sheldon, Abby Kochman, and head coach John Butzgy played a home match at Mountain Top Golf Course on Tuesday. The team has about 15 members. (Photo by Tyler Murphy)
SHERBURNE– On Tuesday, the Sherburne-Earlville golf team honored its five seniors before teeing off against Hamilton. Zach Trass, Andy Fern, Jake Baker, Evan Sheldon, and Abby Kochman were recognized. Unfortunately, the Marauders suffered a close 171-196 loss.
Fern led S-E with a final score of 36 on the par-35 course while Will Choinard medaled for Hamilton with a 38.
Hamilton finished strong as its final three golfers outmatched S-E. Ryan Peters tied with Choinard with a 38 while Peyton Werner shot a 47 and Brady Foster with a 48.
Jake Baker finished with a 50 while fellow seniors Trass and Sheldon tied with a 55.
Coach John Butzgy shared his insights on the season with the final three matches ahead.
"We have had a tough time getting wins this year, currently with a 2 – 5 overall record," he said. "However, our young players are making good improvements to their game and our seniors continue to lead by example, displaying good sportsmanship and determination in our contests. This team is full of well-rounded student athletes who represent SE well."
Butzgy also applauds senior Andy Fern for his excellence this season.
"The highlight of our season thus far is senior Andrew Fern shooting a career-best two under par 33 against Waterville on May 10," he said. "Andrew is on track to qualify for sectionals and has had a strong final season thus far. Sectionals start May 23."
S-E heads to Cooperstown this afternoon (Wednesday) with a tee-off set for 4 p.m.