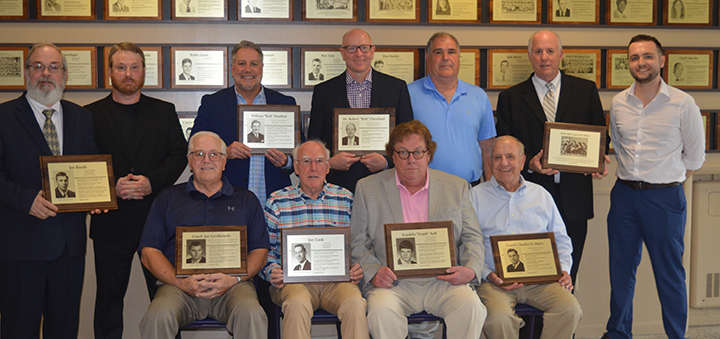 NHS hall of Fame inductions took place on Saturday evening. Pictured are the peers and family of the inductees. Back row: Mike and Greg Binelli, Rick Bassett, Craig Cleveland, Ken Mirabito, Andy Eaton, Matt Eaton Front row: Doug Wilson, Pete Smith, Tom Rowe, and Jim Miers (Photo by Morgan Golliver)
NORWICH – After a two-year hiatus, the Norwich high school sports hall of fame committee celebrated the class 2020 and the 2022 hall of fame inductees.
The ceremony was hosted by Norwich's athletic coordinator Rich Turnbull and the dinner was served by the Stewarts with chicken or salmon, pasta, potatoes, and a cashew salad.
Before the dinner, Coach Don Kovalchik held a moment of silence for Frank Benenati and Don Chirlin who recently passed away since the last induction.
The class of 2020 was presented first. The inductees were Frank Ault, Coach Charles O Miers, Jon Cook, and Dr. Robert "Bob" Cleveland. Each inductee was presented by a peer, family member, or an athlete of the coach.
Sports writer Tom Rowe was a friend of Frank Ault and spoke very highly of Ault's contribution to NHS athletics while Coach Charles O Miers was praised by Jim Dunne and his son Fred Miers.
Jon Cook was unable to attend due to an illness, but is expected to be there for the 2023 hall of fame induction. Craig Cleveland spoke on behalf of his father, Dr. Robert Cleveland, where he became very emotional in talking highly of his father who as a Superintendent made a legacy in NHS athletics.
Joe Binelli, William "Red' Moulton, Coach Joe Grzibowksi and the 1974 400 Freestyle Relay Swim team were honored for the class of 2022.
Mike Binelli spoke about his father and called him "superman" as he excelled for Norwich track, in which Rich Turnbull added Joe's name to the Norwich track and field banner inside the NHS gymnasium. Binelli also said how he looked up to his father and followed in his footsteps. He shared a story on how Joe would drive five hours from Fort Meade to watch him participate in a meet and then drive the five hours back. Joe was a dedicated supporter of the Norwich sports program.
Next, Jim Dunne spoke about William "Red" Moulton who he heard stories from the Mirabito family, about his athletic ability since 1934 was before his time. Rick Bassett, Mouton's grandson also spoke highly of his grandfather.
Doug Wilson, an athlete of Coach Joe Grzibowksi, told of how intimating "Coach Griz," was at 6'5 as he recruited Wilson for spring track. Wilson also learned a new way to throw discus from Griz and even gave up playing his prominent winter sport to join the indoor track team.
John Stewart had the privilege of introducing the 1974 swim relay team where he could not stop mentioning the "20 yard three lane pool" they practiced at 5 a.m at the YMCA. He also remembered the swim state championship was held at West Point that year. Andy Eaton and Ken Mirabito were the two members in attendance on behalf of the team.
To conclude a great night, Dave Ring got the crowd hyped up with his "Go Purple" chant.
Overall, it was great to have a night to celebrate the legacy of Norwich high school athletics and everyone is looking forward to 2023.