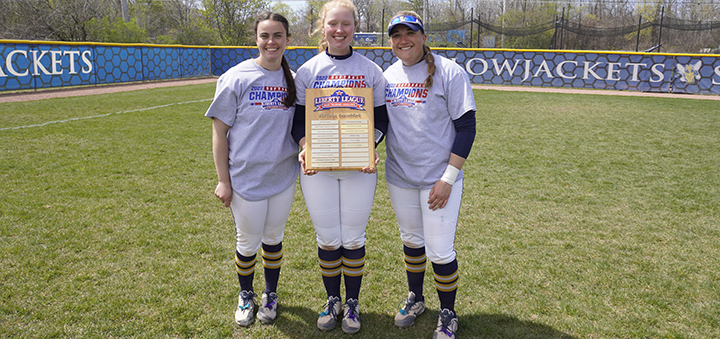 Three of four University of Rochester captains (L to R) Emily Sharlach, Allison Beckwith, and Hannah Keiper (Submitted Photo)
ROCHESTER – After winning their tenth Liberty League Championship, the University of Rochester Yellowjackets softball team is heading to the NCAA Division III playoffs.
This will be the Yellowjackets' ninth bid in the playoffs. Rochester is 26-13 and has won 24 of its last 25 games. Rochester defeated Skidmore College and RPI twice to win the Liberty League Championship.
The Yellowjackets prepares for the playoffs with Bailey Nicholoff looking to add to her team-high 46 RBIs and seven home runs on the season. Teammate Hannah Keiper is behind Nicholoff with 30 RBIs and six home runs while Loren Castilloux leads the team with a .406 batting average in 77 at bats.
Rochester's pitchers combined for 126 strikeouts with a team ERA of 2.95. In 21 appearances, Lauren Keys is 11-6 with a 3.02 ERA and 46 strikeouts. Christin Napierkowski leads the team with four saves in eight appearances off the bench.
Rochester will be facing a tough 33-11 Virginia Wesleyan team in the first regional game held at Amherst College this Friday at 2 p.m. VWU won the NCAA Division III National Championship against Texas Lutheran University last year in a best two-of-three series.