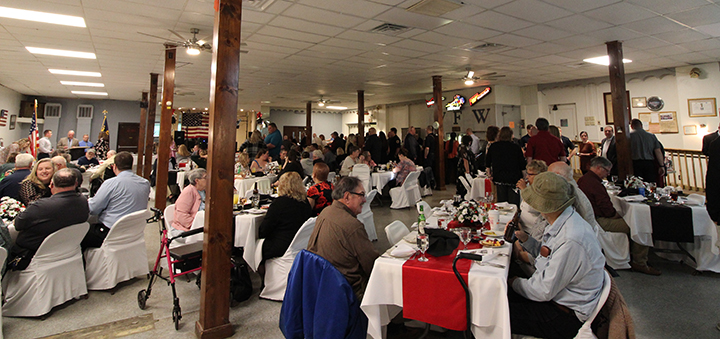 More than 140 people attended the annual Norwich Fire Department Awards and Recognition Dinner on Saturday, April 30 at the Norwich VFW. State and local officials gave out awards to firemen, EMS personnel, and fire department members in recognition of their service. (Photo by Sarah Genter)
NORWICH — Members of the Norwich Fire Department (NFD) and other local fire departments gathered at the Norwich VFW on Saturday to honor and celebrate notable firefighters and EMS personnel at their annual Awards and Recognition Ceremony.
The event was hosted by NFD Assistant Chief and Maydole Hose Co. President Pat Ford, and awards were given out by NFD Chief Jan Papelino, Central New York Firemen's Association President and Fire Association of New York (FASNY) committee member Paul Rieben, and New York State Assemblyman Joseph Angelino, among others.
Also in attendance were members of neighboring fire departments, who the NFD depends on for mutual aid assistance, including New Berlin Fire Department Chief Don Anderson, South New Berlin Fire Department Chief Kevin Christian, Mount Upton Fire Department Chief Dave Button, and Plymouth Fire Department Assistant Chief Les Elsworth.
Attendees enjoyed dinner while recognizing the accomplishments of fellow firefighters, EMS personnel, and fire department members. The evening wrapped up with a gift basket raffle, music, and dancing.
A full list of award recipients and photos of the event can be found on page 10 of today's Evening Sun.