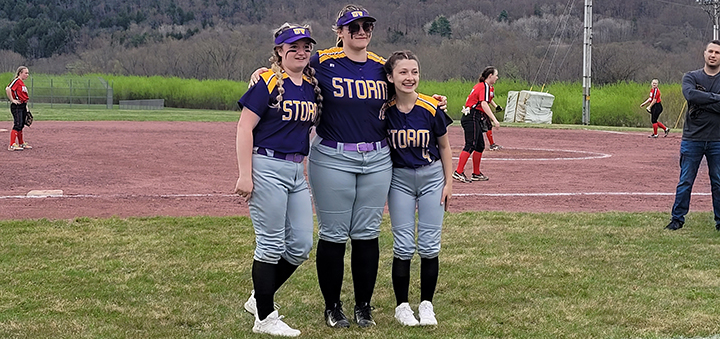 UV/GMU seniors; #4 Rylee Lanfair, #13 Melanie VanWal, and #18 Maddy Raymond (Photo by Morgan Golliver)
NEW BERLIN– The UV/GMU softball team defeated Afton on Senior Night 13-11.
Before the game, the Storm honored its three seniors, Maddy Raymond, Melanie VanWal, and Rylee Lanfair.
Hannah Bonczkowski and the UV/GMU defense held Afton to just scoring two runs in the seventh to achieve the victory.
At the plate, Bonczkowksi was on base all four times. She walked twice, hit a triple, and reached on an error. She also earned five stolen bases.
Pyper Kneale went 3-for-3 on the day with two singles, a triple, and five stolen bases. Behind Kneale, Ava Rowe had an RBI triple in the first and an RBI single in the fifth.
UV/GMU heads to Delhi this afternoon (Wednesday) for a 4:30 p.m. start.
Box Score
Runs by Inning R H E
Afton
0-1-6-0-0-2-2 11 3 4
UV/GMU
4-3-3-0-2-1 13 8 3