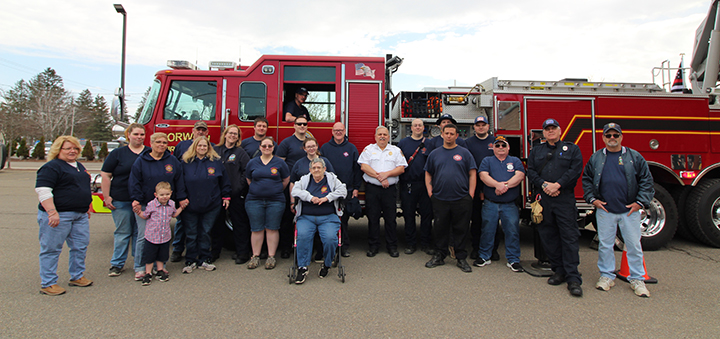 Career and volunteer NFD firefighters, members of the NFD Auxiliary, and NFD EMS crew members at the Norwich Fire Department RecruitNY event on Sunday, April 24. (Photo by Sarah Genter)
NORWICH — The City of Norwich Fire Department (NFD) hosted an open house on Sunday, April 24 as part of the RecruitNY initiative to recruit and retain volunteer firefighters.
The firehouse opened up the apparatus bay to the public and parked a firetruck out front, flashing lights and all. Visitors had the chance to meet with firefighters and EMTs to learn more about the field, and discuss volunteering options.
Several NFD trucks and various firefighting and rescue equipment was set up behind the firehouse, including a tanker truck, a utility vehicle, and a ladder truck, among others. NFD staff and volunteers were ready to give tours, explain equipment, and provide some hands-on learning as well.

"They've got some cars over there they're going to do some cutting on. If somebody shows up we'll let them heft the power tools over there, they can handle a hose off the engine if they want," said NFD Chief Jan Papelino. "They can go up the ladder if they want. If they have an interest in possibly becoming an EMT they can look at the equipment here. They can do some stuff with the ropes, go for a ride in the UTV (utility vehicle) if they want, around the parking lot."
NFD Fire Captain and 22-year volunteer John Fowlston said the department offers many opportunities for volunteering, depending on an individual's interests. Volunteering options include exterior firefighting, interior firefighting, EMT training, or joining the NFD Auxiliary.
"You don't have to learn everything," said Fowlston. "You decide what you want to do, and we'll make you the best at it you can be."
Those interested in volunteering with the Norwich Fire Department can learn more by calling the station at 607-334-1213, or by stopping down in person to pick up an application.