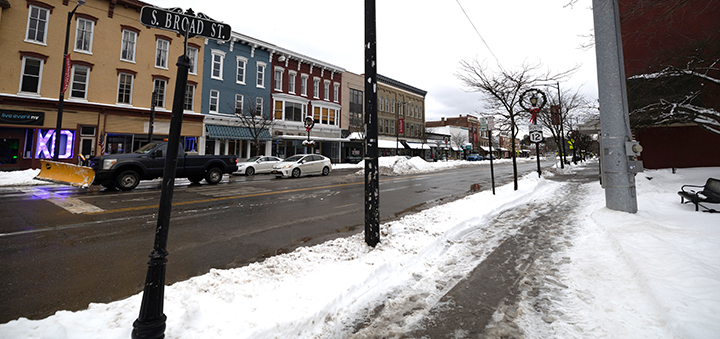 Downtown Norwich roads plowed after a winter storm on January 17. Keeping emergency supplies in vehicles, driving slowly and cautiously, and keeping a distance from snow plows is recommended in anticipation of tonight's expected winter storm. (Photo by Sarah Genter)
CHENANGO COUNTY — The National Weather Service Binghamton location has issued a winter storm warning for Chenango County, beginning at 6 p.m. this evening until noon on Tuesday, April 19.
Heavy snow is expected, with approximately five to 11 inches of accumulation. Expected snowfall rates are one to two inches per hour in some areas, with some isolated areas reaching nearly three inches per hour.
The National Weather Service warns that "travel could be difficult" and "the hazardous conditions could impact the morning commute." There is also the risk of scattered power outages due to heavy, wet snow.
Norwich Police Department Detective Sergeant Reuben Roach recommends drivers exercise caution and stick to slower speeds.
"Drive slow and be aware of other drivers. Every year we have an influx of younger drivers who do no have the experience that some of us might have in the snow and ice," he said. "Always drive slow and use extreme caution; the obstruction from the snowbanks make it very hard for the drivers to see all things at all times."
When driving around snow plows, Roach said its best to give them plenty of room, and reminds motorists to understand they are doing important work. He added that "being patient with them is essential to safe roadways."
In addition to driving precautions, motorists should also keep a blanket, flashlight with fresh batteries, and a first aid kit in their vehicles at all times in case of emergency, according to Roach. Allowing for extra commute time and remaining patient with other drivers is also key to weathering the storm.
"Give yourself an extra 20 to 30 minutes for travel time, and try to be kind to other drivers who are traveling slower than usual," said Roach.