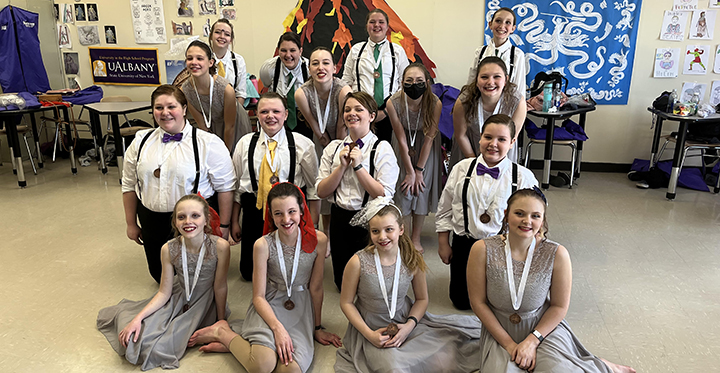 The Norwich Winterguard. Front row: Nevaeh Fowlston (5th grade), Tristan Monroe (6th grade), Kera Thompson (6th grade), Faith Fujtas (10th grade). Second row: Daisy Shaw (8th grade), Chesnie Lein (6th grade), Appolonia Stockton (7th grade), Melodee Stone (6th grade). Third row: Jillian Petrie (6th grade), Anna Harris (8th grade), Averie Fink (9th grade), Emily Nichols (10th grade). Back row: Emily Funaro (8th grade), Erin Nichols (8th grade), Lucy Holbrook (6th grade), Kaylee Fowlston (8th grade). (Photo by Amy Preston)
CLIFTON PARK – On April 2, the Norwich Winterguard earned a bronze medal at the Mid-York Colorguard Circuit Championship held at Shenendehowa High School with Vestal taking home first place.
For the Championships, the Norwich Winterguard program performed a show based off of the movie "Clue."
"Clue" is a "who dunnit" type of film based off the classic board game with the players trying to solve the mystery of who killed Mr. Boddy. The winterguard show consisted of a floor mat was divided into "rooms" that were labeled "Hall, Study, Kitchen, Ballroom and Lounge." At the end, the killer gets revealed in a shocking twist.
After not being able to compete in the 2020-2021 season, Norwich Winterguard Director Amy Preston was very pleased in this year's performance with such young talent.
"This year we were able to rebuild our program, basically from the ground up," Preston said. "We had four returning members (3 in 8th grade and one in 10th), and twelve rookies who have never done this before (including one 5th grader). It was a daunting task at first, but these girls have worked so incredibly hard."
The Winterguard season started in mid-November with competition in January. This year, Norwich competed against nine guards in the Scholastic Regional A class throughout the state.
Preston, in her sixth season with the program, stated that this year she told her team not to worry too much about the competition.
"We made it clear to the girls that since there are so many new members, that just getting out there, having fun, doing your best and being proud of yourself is most important," Preston said. "However, these kids put in the work each and every practice."
Due to being such a young group, Preston has developed a close bond with everyone and considers them "family." This is a tight bond that will only get stronger in years to come. Overall, Preston couldn't be more proud of her team's performance and is anxious for the next season.
Full Results from the championship:
1st place - Vestal - 87.11
2nd place - Central Square JV - 86.09
3rd place - Norwich - 83.85
4th place - Baldwinsville JV - 83.50
5th place - Phoenix JV - 81.44
6th place - Oswego - 78.26
7th place - ESM JV - 78.24
8th place - Homer - 77.42
9th place - Horseheads - 74.42