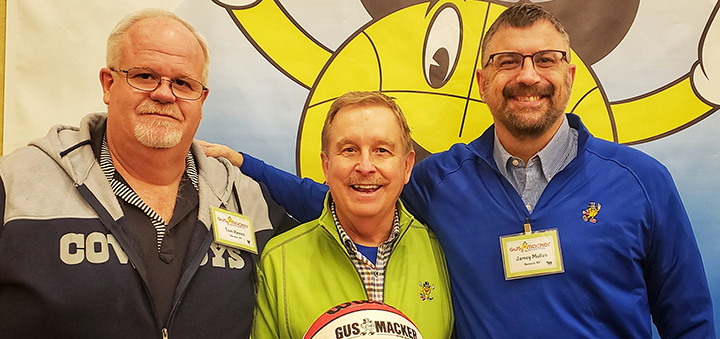 Norwich Family YMCA Sports Director and Norwich Gus Macker Tournament Director Tom Revoir, Macker Basketball LLC Owner Scott McNeal, and Norwich Family YMCA Executive Director and CEO Jamey Mullen at the Gus Macker Conference held in Grand Rapids, Michigan this February. (Photo from the Norwich Family YMCA Facebook page)
NORWICH – The popular summer basketball tournament Gus Macker is set to return for its 25th anniversary event after two years of postponement due to the COVID-19 pandemic.
"It's finally year 25. It took us 27 years to get here, as we postponed it for two years during COVID," said Norwich Family YMCA Executive Director and CEO Jamey Mullen. "It's going to be challenging to restart this event, or this engine, after a two year hiatus. But we're on board to do it, we're excited."
The three day tournament is slated for July 8, 9, and 10. Registration is live at macker.com, and the entry fee for a team is $160. The deadline to register is June 20. More information and updates about the tournament can also be found on the newly launched Gus Macker Basketball in Norwich, NY Facebook page.
Although usually held on East Main Street in downtown Norwich, the location of Gus Macker had to be altered this year due to a scheduled construction project on downtown streets.
"We received word from the State of New York that East Main Street would not be a viable spot this year because of a two year construction project for South Broad Street, North Broad Street, and East Main Street," Mullen explained.