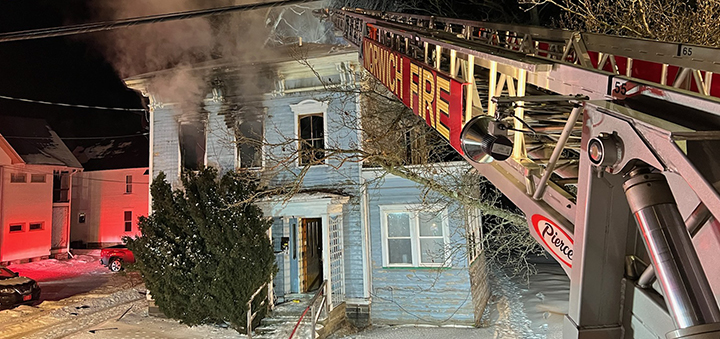 On Saturday, February 5, the Norwich Fire Department responded to a fire at a three-unit apartment building located at 32-34 Silver Street in Norwich. According to the Norwich Fire Department, one resident was injured and seven were displaced as a result of the fire. (Submitted photo)
NORWICH — On Saturday, February 5 at 11:47 p.m. the Norwich Fire Department was dispatched to a reported apartment building fire at 32-34 Silver Street, which is a three-unit apartment building.
First units arrived at approximately 11:50 p.m. and reported heavy fire out the second floor windows in the front of the structure. It was unknown if all occupants were safely out of the structure upon arrival. The first arriving crew entered the structure to begin fire suppression and perform a search of the second-floor apartment.
At approximately 11:56 p.m. a victim was located in a bedroom on the second floor. The victim was unresponsive, and immediately removed from the apartment and transported to Chenango Memorial Hospital by Norwich Fire at 12 a.m., where the victim was treated and subsequently flown by LifeNet to Upstate Hospital's Burn Unit in Syracuse for treatment.
The second-floor apartment sustained significant fire damage. The other two units sustained slight smoke and water damage. In total, seven residents have been displaced by this fire and they are being assisted by the American Red Cross.
Unfortunately, a dog named Liberty perished in the fire. She was eventually located and returned to family. The scene was cleared by all units at 4 a.m. Sunday morning.
The Norwich Fire Department was assisted at the scene by the Plymouth and North Norwich Fire Departments, the Chenango County Bureau of Fire, Chenango County Sheriff's Department, Norwich City PD, Norwich DPW, NYSEG, and American Red Cross.
-from the City of Norwich Fire Department
How about a suspected cause of the fire ???
Please, login to comment.
---