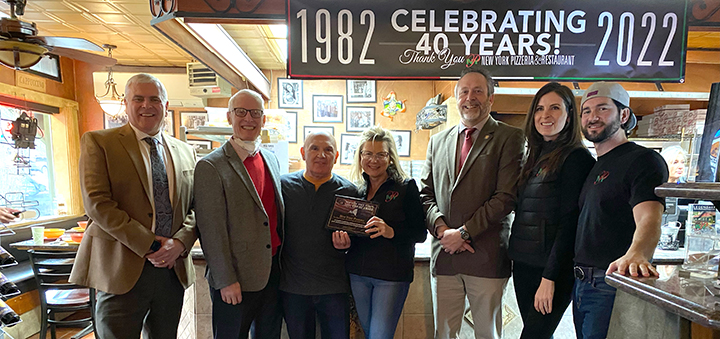 New York Pizzeria celebrated its 40th anniversary last week and were honored by state and local officials. Assemblyman Joseph Angelino (R,C,I-Norwich), New Berlin Mayor Peter Lennon, Owners Frank and Betsey Baio, NY Sen. Peter Oberacker (51st district), Owners Meredith and Rosario Baio. (Submitted photo)
NEW BERLIN – Last week, on January 13, New York Pizzeria celebrated its 40th year.
The New Berlin restaurant has become a local icon over the last four decades. The business is well-known for their quality food and for the friendly and energetic personalities of the family operating it.
"When you really want to do something, you start it yesterday," said owner Frank Baio.
Mentioning the pizzeria as a positive is an automatic response for most residents offering credible descriptions of the area.
New York Pizzeria is owned by Frank and Betsey Baio, along with their son Rosario, who practically grew up in the business and has been a constant presence at the front counter and in the kitchen since he was 13.
Over the last five years, Rosario has taken on an ownership role of the pizzeria and is now a co-owner.
"There are not enough words to thank the community for the wonderful support over the last 40 years," said Frank. "In New Berlin, South New Berlin, Edmeston, they are strong communities. We will be here for another 40 years."
"We've shared countless birthdays, anniversaries, proms, graduations – we're grateful to have been part of so many celebrations and gatherings through the years," said Betsey.