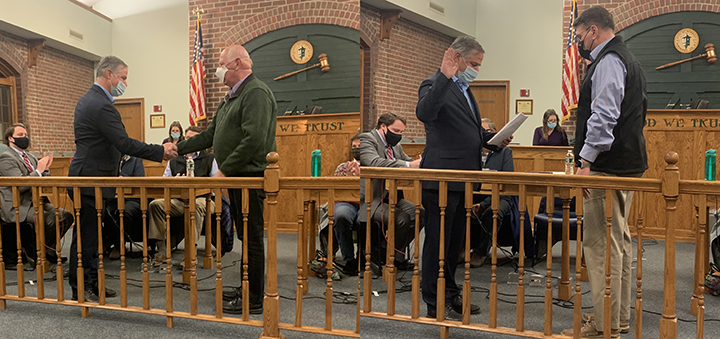 City of Norwich Mayor Brian Doliver swearing in the new Ward 2 Alderman Fred Gee, and the new Ward 4 Alderman Bill Loomis at the first joint committee meeting of the year, held on Monday, January 3. (Photos by Sarah Genter)
NORWICH — Two new aldermen started their terms in the City of Norwich last week: Ward 2 Alderman Fred Gee, and Ward 4 Alderman Bill Loomis.
"I think for the City of Norwich it's an exciting time, given the fact that the $10 million award secured for the DRI. It's a wonderful time to be involved, I think, in city government, in terms of having an opportunity to significantly change the direction of the city," said Loomis.
While neither alderman has prior experience in local government, Loomis had some campaigning experience from a former run for a school board. Gee served on the Guernsey Memorial Library Board of Trustees, as their Head of Learning.
Despite their terms as aldermen being their first role in local government, both Loomis and Gee have plenty of plans and ideas to improve the area for residents.
Alderman Fred Gee
A big focus for Alderman Gee is establishing long-term planning, to ensure the City of Norwich is set up for success not only now, but for many years to come.