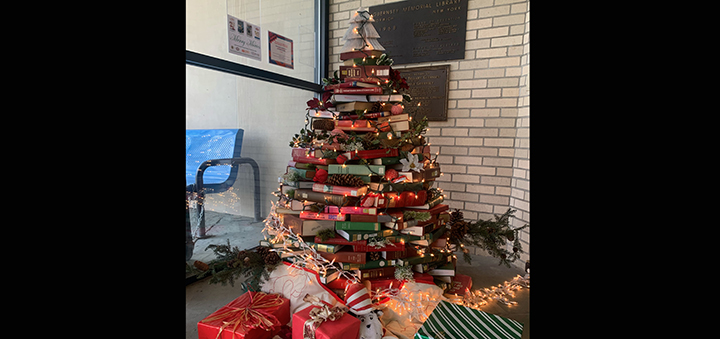 The book tree at the Guernsey Memorial Library. Featured at the top is a paper book tree, which participants in the next adult craft workshop can learn how to make themselves. The workshop is scheduled for 6 p.m. on Wednesday, December 22. (Photo by Sarah Genter)
NORWICH — The Guernsey Memorial Library in Norwich is offering a host of activities and programs for both children and adults. Activities and programs include craft classes, free movies, a Lego club, book and graphic novel clubs, a children's reading program, and more.
Adult Crafts
For several years, the library has held twice-monthly adult craft workshops, where area residents teach others to make crafts ranging from crochet pieces to Christmas ornaments. On Wednesday, December 22, participants in the workshop will learn how to make a paper Christmas tree out of paperback books. The workshop will be held at 6 p.m. at the Guernsey Library.
"For this particular program it's just individuals that said to me, hey, are you interested? And I'm always interested in getting people signed up for the year after. I mean, 2022's going to be planned out already. But if somebody's interested in teaching something or learning something I would love to talk to them, get them enlisted in teaching a class, or at least get an idea for a class that I haven't thought of," said Guernsey Memorial Library Director Connie Dalrymple.
She explained that the purpose of the adult crafts is to bring members of the community together, as well as teach them a new, fun skill.