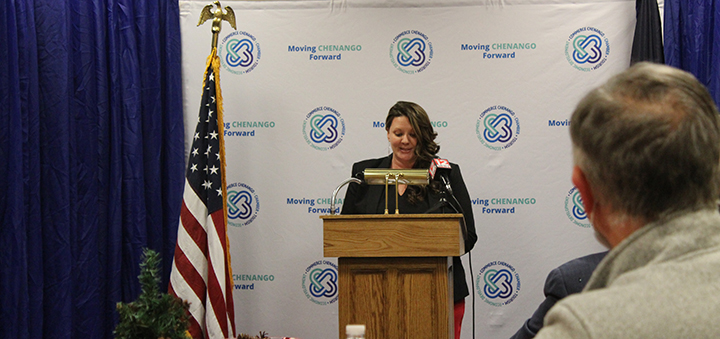 Commerce Chenango CEO and President Kerri Green speaking at a meeting with elected officials on Wednesday, December 8, after it was announced that Norwich would be receiving a $10 million grant through the Southern Tier Regional Economic Development Council. (Photo by Sarah Genter)
NORWICH — On Wednesday, December 8, it was announced that the Southern Tier Regional Economic Development Council (STREDC) was awarding the City of Norwich a $10 million Downtown Revitalization Initiative (DRI) grant, after years of work by Commerce Chenango and the Development Chenango Corporation (DCC).
The projects detailed in the application include establishing a business and workforce training center, the creation of micro-retail spaces, improved accessibility and safety to downtown buildings and walkways, development of a creative hub, development of a boutique hotel, and transformation of Norwich's central space.
"It's going to transform Norwich," said Green of the DRI grant. "I think the ripple effect throughout the entire Chenango County is going to be felt. It's going to completely transform downtown. It's going to give that extra push we needed to put us into that next level of innovation and forward thinking."
The grant is usually available to one municipality in each region of New York State per year, and allows them to revitalize and invest in their downtown district.
"They're looking for anchor projects, they're looking that you're going to spur some economic development, job creation. I mean, there's a whole host of things that they're looking for. But its a way to give the community the resources they need to go to the next level with their local economy," said Commerce Chenango CEO and President Kerri Green.
What a load of Bulls**t without manufacturing jobs here in Norwich no one has any money to spend in "boutiques". Also the city taxes are driving people away both merchants and residents. What we do have a lot of is: illegals, welfare recipients, and homeless (most of which come from NYC courtesy of a free bus ticket and directions on how to get emergency benefits same day they arrive). Wake up people !!!
Please, login to comment.
---