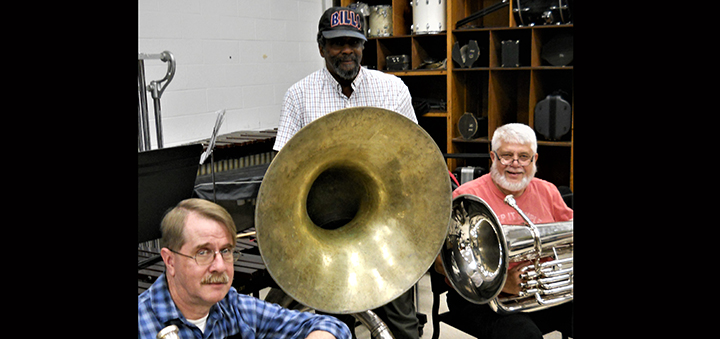 The Mid-York Concert Band Bass Brass Line: L-R: Chris Robb, Carl Pickett, and Jim Schmitt show off their "Heavy Metal," laying down the foundation for all the other parts. Truly awesome instruments, the tuba and sousaphone are the largest of the brass-wind group. (Submitted photo)
NORWICH — The Mid-York Concert Band is presenting their sixth annual Holiday Concert on Tuesday, December 14 at 7:30 p.m. at the Norwich High School Auditorium, under director Mark Sands. This is a high-quality, approximately 40-member performing ensemble made up of professionals, educators, dedicated amateurs, and students from Chenango and surrounding counties.
This concert's highlights will include The Eighth Candle, a multi-metered tribute to Hanukkah; Let It Go, a favorite from the movie and Broadway musical "Frozen"; and Sentimental Journey. Mature listeners who remember the "big band" sound will love this one and Sleighride, a Leroy Anderson all-time favorite.
The concert will also include 'Twas the Night Before Christmas narrated by long time Norwich resident and music educator Mr. David Kirsch. Mr. Kirsch received both his Bachelor's and Master's degrees from SUNY Fredonia. Over the course of his 36-year teaching career he worked with thousands of elementary-age music students in vocal, classroom, and instrumental settings, first in Waterville, NY and then Perry Browne Intermediate School in Norwich, from which he retired in 2011.
He will also lead the audience in a good, old fashioned Christmas carol sing-along with the band. Mr. Kirsch is looking forward to seeing you at the concert. The program will conclude with John Philip Sousa's "Stars and Stripes Forever."
This program is made possible with public funds from the Statewide Community Regrants Program, a regrant program of the New York State Council on the Arts with the support of the Office of the Governor and the New York State Legislature, and administered by The Earlville Opera House.
We also anticipate your additional support through a free will offering at the door. With COVID taking center stage lately, it has been a long time since we have been able to have in-person concerts. Please come and enjoy this concert with us. We ask that you use current CDC social distance seating guidelines.
-from the Mid-York Concert Band