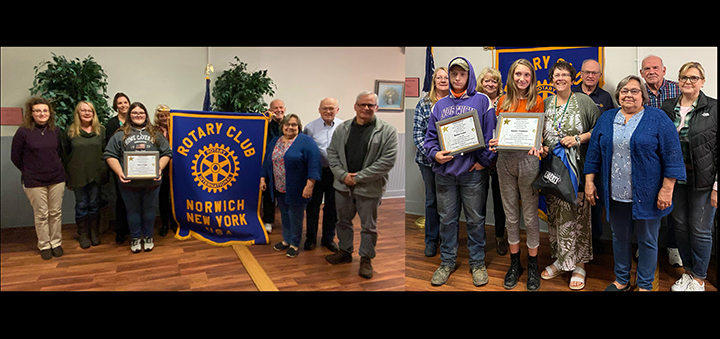 Liberty Partnerships Program students being honored at the twice monthly Norwich Rotary Club luncheons. The Norwich Rotary began by honoring students with the most service minutes, including Norwich High School student Malaki Eaton with 14,661 minutes, Bainbridge-Guilford High School student Olivia Briggs with 14,042 minutes, and Norwich Middle School student Kaylee Fowlston with 10,433 minutes. (Submitted photos)
NORWICH — The Norwich Rotary Club is honoring students who participated in the SUNY Morrisville Liberty Partnerships Program (LPP). The goals of LPP match closely with those of the Norwich Rotary Club, which focuses on the importance of service to others.
"As part of the vision of the Liberty Partnerships Program, as supported by the New York State Education Department, we make a promise to students to work collaboratively with others throughout our community to make available the support systems that provide, encourage, establish, and guide our young people on a path to becoming competent and compassionate members of our society," said LPP Project Director Kisten Giglio. "We are so thankful that the Norwich Rotary Club has joined us in striving toward this vision."
Norwich Rotary members began honoring the LPP students for their hard work and community involvement at their twice monthly luncheons, with the hopes that it will encourage further service and personal development.
"What they decided to do this year was, they are recognizing one of our students at each of their luncheons. So they meet twice a month at the Wild Owl, and so they're honoring one of our kids at each of those," said Giglio. "They pay for their meal and they get a small gift for them."
The Liberty Partnerships Program works with students in the Bainbridge-Guilford, Norwich, Otselic Valley, and Unadilla Valley School Districts, to better both themselves and their community through various activities and programs.