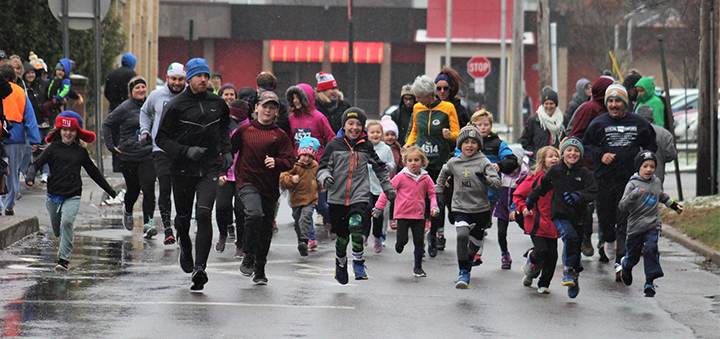 Participants in the 38th annual Norwich YMCA Turkey Trot, held in 2019. Last year, the Turkey Trot was held virtually due to the COVID-19 pandemic. But, this Sunday, November 21, the annual 5K is back and will be held in person. The race begins at 12:30 p.m., on South Broad Street in front of the Norwich YMCA parking lot. (Photo from the Norwich Family YMCA Facebook page)
NORWICH — The annual Norwich YMCA Turkey Trot is returning in person this year, and ringing in their 40th anniversary. The 5K is scheduled to begin at 12:30 p.m. on Sunday, November 21.
The yearly event is meant to be a way for individuals, families, and friends to come together and get active, as well as a fundraiser for the Norwich Family YMCA, according to Norwich Family YMCA Executive Director Jamey Mullen.
"We use the event twofold: it's an event to bring people to town, it's an event for families and friends to participate together, kind of kicks off the holiday season," said Mullen. "And then the event has been used as a fundraiser for the Y. So it's been that way all along, it's been that charitable arm to support the Y as a not-for-profit."
Money is raised through registration fees. Mullen explained that today, November 16, is the last day to sign up for $25. Starting Wednesday, November 17, and up until race day, participation costs $30. Students in 12th grade or younger can sign up for $20.
He added that the money raised helps the YMCA to fund operation of their facility, scholarships, and costs of running the Turkey Trot.