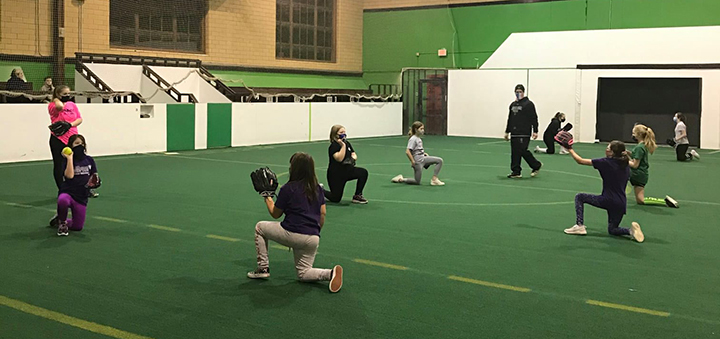 The City of Norwich Youth Bureau's indoor pre-season softball program held in January 2021. This year, the Youth Bureau is offering pre-season softball and baseball, cheerleading, bowling, junior wrestling, and a Winter Fun Club. (Photo from the City of Norwich Youth Bureau Facebook page)
NORWICH — The City of Norwich Youth Bureau is offering several winter programs this year, including junior wrestling, pre-season softball and baseball, winter cheerleading, bowling, and a Winter Fun Club.
"We've got our programs in place that we're hoping to offer," said Youth Bureau Director Anthony Testani. "We've got instructors set up and volunteers to man these. So I think we're good to go right now."
All the offered programs are free of charge, and open to residents of several municipalities.
"All our programs are free. Our programs are offered to all city residents. City of Norwich, and then we contract with the Town of Norwich, North Norwich, Plymouth and Preston, and Pharsalia," said Testani. "We won't turn kids away. If anybody's in the outlying towns that want to participate in one of the programs, it's available to them."
While the Youth Bureau offers winter programs every year, Testani said some of the programs offered this year are new.
"The Winter Fun Club is new, it'll be the first year we're offering that," he said. "Winter Fun Club is going to be similar to what we did in the summer. We're going to have an after school program, and hopefully for kids K through sixth grade. It'll be just kind of like arts and crafts type of activity."
He added that the winter cheerleading is new to the winter programs as well, and that soccer is being brought back after a several year hiatus.