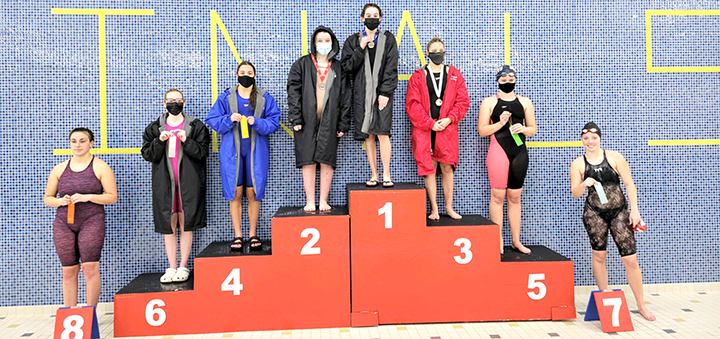 Norwich freshman Nina Kman won sectional titles in the 200 and 500 yard freestyle races. Pictured here is Kman atop the podium for her performance in the 500 yard freestyle. Tornado teammates Mikayla Sastri placed second and Tanner Olds placed sixth. (Submitted photo)
ENDWELL – Tornado freshman Nina Kman brought home two Section IV Class B swimming titles on Saturday October 6th in the 200 and 500 yard freestyle in times of 2:05.12 and 5:41.55 respectively. Kman's performances headlined Norwich's fifth place overall team finish out of eight teams in the Section IV Class B girls' varsity swimming championships.
Notably- the Tornado trio of Kman, Mikayla Sastri and Tanner Olds were absolutely dominant as they all placed in the top six of the 500 yard freestyle race. With Kman taking the aforementioned top spot, Tornado eighth grader Mikayla Sastri posted a second place performance with a time of 5:51.10 while Norwich senior Tanner Olds placed sixth in a time of 6:07.95 in her final high school swim meet.